"Jump Force" Receives A New DLC Character Trailer For Bakugo
A lot of announcements came from Bandai Namco during Anime Expo 2019, with another joining the list is a new DLC character trailer for Jump Force. This time we get a quick look at Katsuki Bakugo from My Hero Academia. As much as we would love to talk about the character, this trailer only has him on screen for 15 seconds. You get to see him angry, yell at someone, punch a lot, look awesome with his grenade bucklers, and then we cut to the logo. So not a lot to really judge his performance or skills or anything else for that matter beyond the design. Which, we will say, does look cool.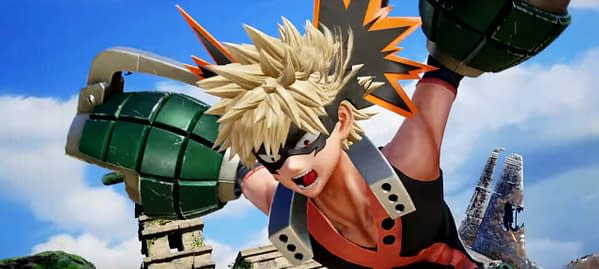 Katsuki Bakugo will be added to Jump Force sometime this summer, but Bandai Namco is keeping the dates pretty hush-hush for now considering how much has already been leaked. We'll probably find out on their official website sometime in the next month or so, as we're sure they'd like to get these characters out around the time PAX West starts up.