Kings of War: Vanguard Abyssal Warband Booster Review
Mantic Games released new skirmish rules in November for Kings of War, their rank-and-flank table-top war game. The new system, Kings of War: Vanguard, sets a much smaller field of battle with an emphasis on fewer figures and entertaining scenarios. Mantic also released a few new sets of models for the Night Stalker, Northern Alliance, and Abyssal factions. Today, we're going to take an in-depth look at the Abyssal Warband Booster.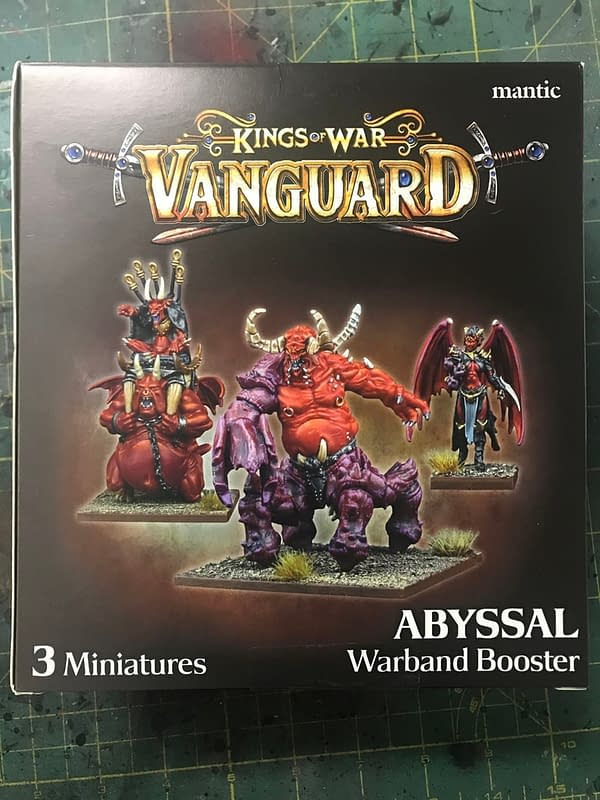 This box contains three miniatures with their associated stat cards for Vanguard: a Seductress, a Despoiler, and an Abyssal Warlock, who looks like he really knows how to party.
Seductress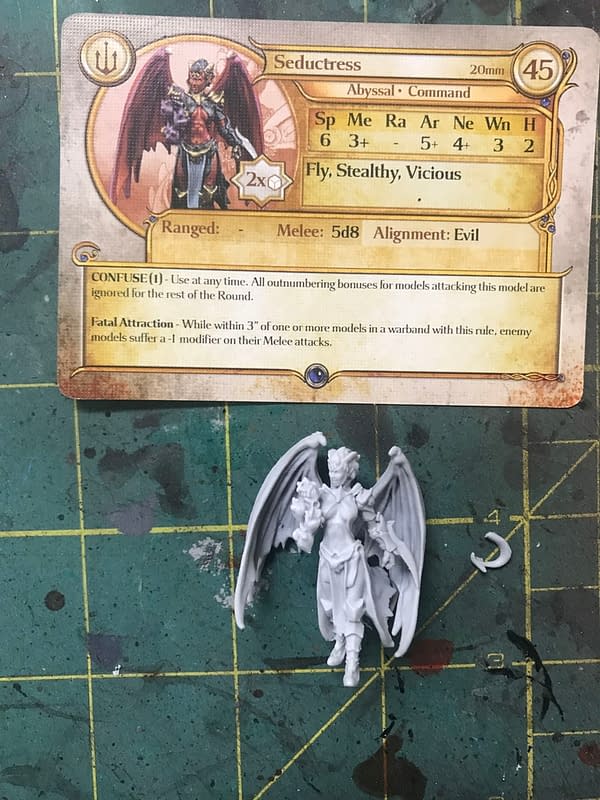 The Seductress comes in only three parts: her body, wings, and tail. There was very little flash left over from the molding process, and it looks like Mantic is using a higher quality resin than previous releases. The figure assembles easily and looks great when put together.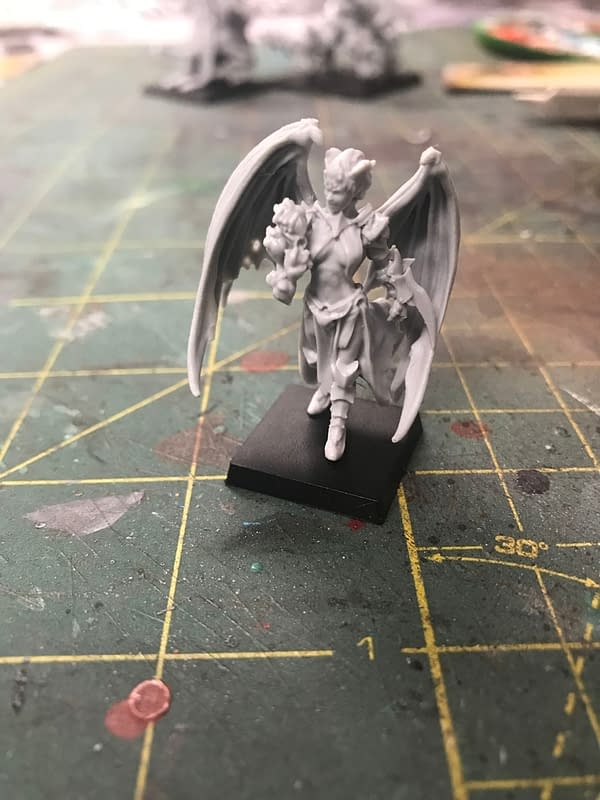 Despoiler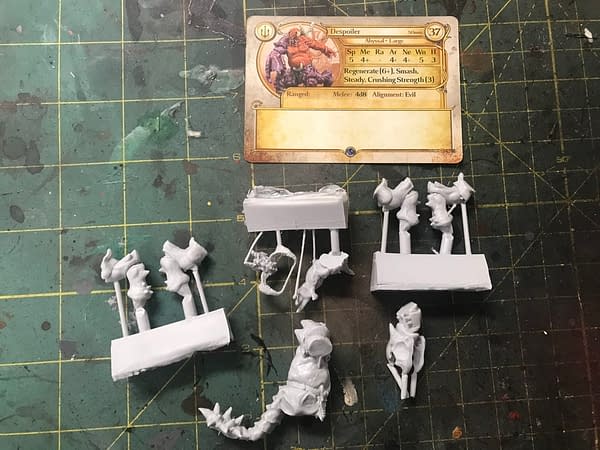 The Despoiler comes with four legs, two each on separate sprues, a third sprue holding its head and left arm, a loose arm with an enormous claw, and the torso piece. There was a bit more flash on this figure; cleaning up mold lines and pieces of the casting sprue took a little more time but was by no means a deal breaker. Assembly takes a bit of time to sort out, but the finished figure is worth the effort; this brute is going to look great on the table!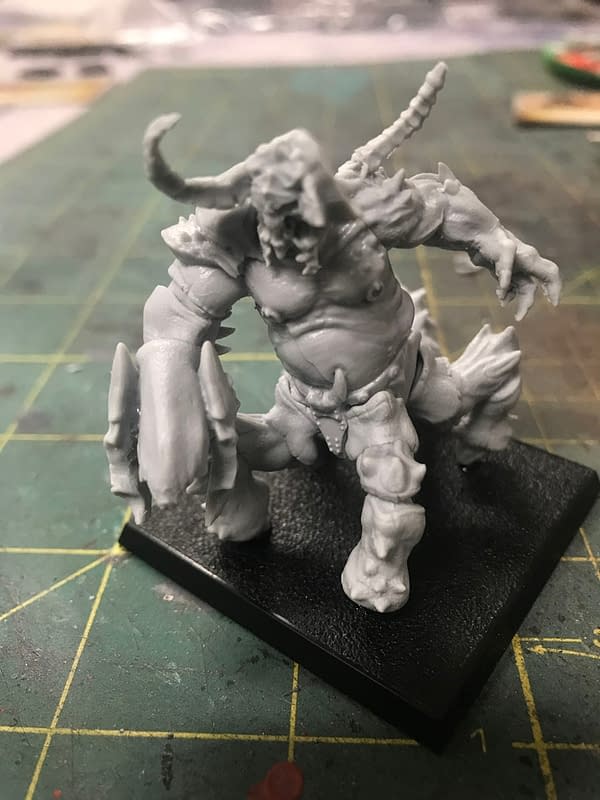 Abyssal Warlock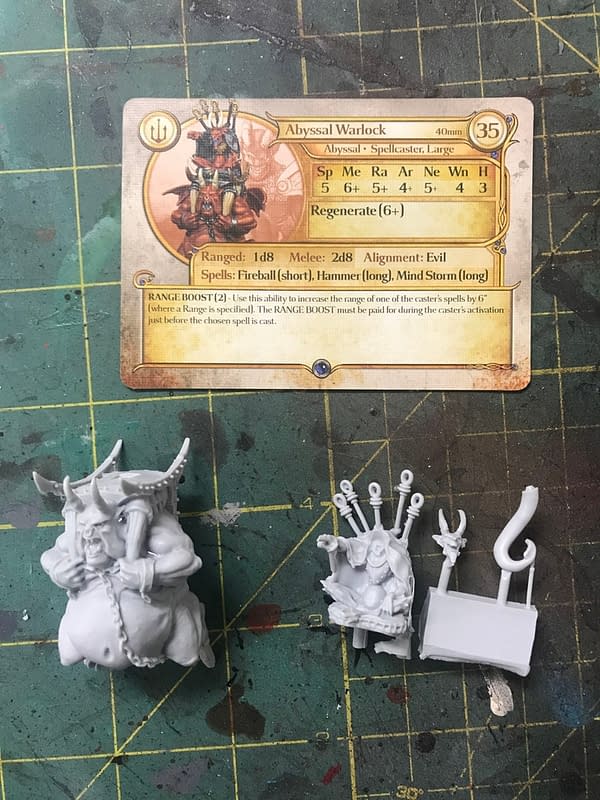 The Abyssal Warlock packs in four pieces, with the main warlock body and his piggy-back buddy coming in separate pieces. There is an additional sprue holding the warlock's head and Mongo's tail (is his name Mongo? Probably not, but work with me!). Clean up and assembly was relatively easy, with very little mold line removal necessary.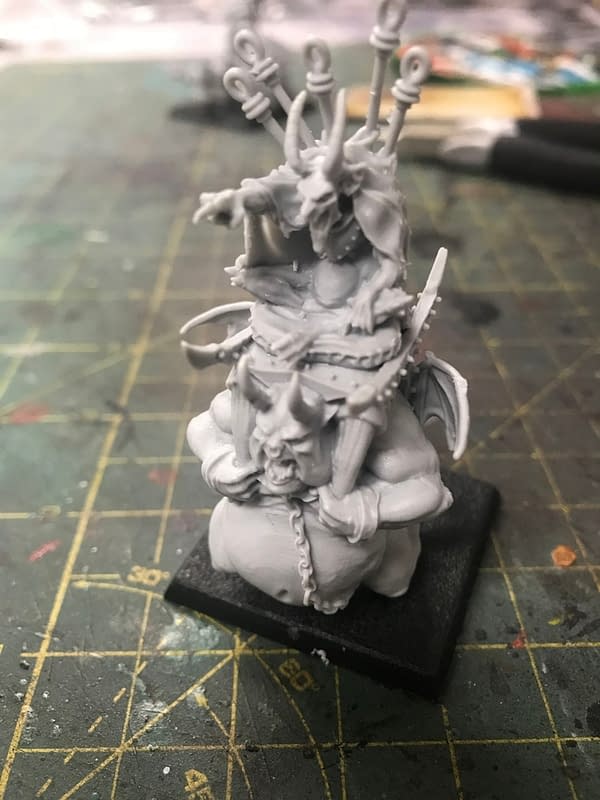 Painting
Mantic has done a really nice job with the figures in this release; they get the job done without overloading the sculpt with too much detail. The end result is a figure that doesn't take a ton of skill to bring to a decent table-top standard, and these three figures are full of character. An accomplished painter will find a lot of room to play around too, with plenty of little details that allow you to show off a little. The detail on the figures is about on par with the typical Games Workshop release and will not present the painting challenges of your average Corvus Belli miniature.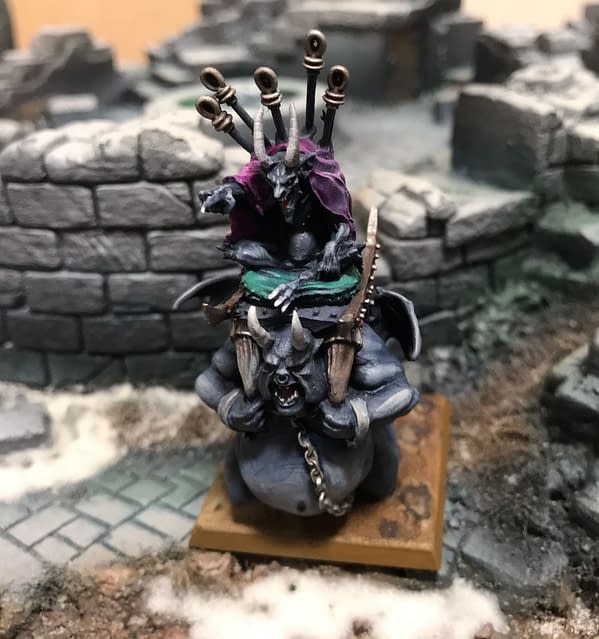 Of the three figures in the Abyssal Warband Booster, the Abyssal Warlock is my personal favorite. I haven't seen Vinnie and Mongo in battle yet, but they look like a ton of fun!
The Details
The Abyssal Warband Booster carries an MSRP of $39.99, and requires the Kings of War: Vanguard rulebook, sold separately if you want to play the game. If, on the other hand, you just want to recreate The Greatest Rock Show EVER in 28mm scale, this little box is all you need. You can order the Abyssal Warband Booster directly from Mantic, or be the hero your gaming community needs and pick it up at your local gaming store. If they don't have it, just ask! Most game stores can order games they don't carry for you!