League Of Legends All-Star 2020 Is Happening This Weekend
Riot Games is currently holding the League Of Legends All-Star 2020 event this weekend in Shanghai, China for everyone to enjoy. One of the few in-person esports events to take place this year, the competition will feature players from several leagues and include such names as Faker, MaRin, BRTT, Levi, Jensen, Sneaky, Meteos, Mata, Josedeodo, Selfmade, and Vizicsasci participating in this years' competition. The competition also features new format changes from last year's event, dividing into two stages with Underdog Uprising and Superstar Showdown. Now you'll be able to see your favorite players and leagues form different formations and alliances that will play out into some of the most unpredictable matches you'll see in a long time. You can read more about it below as the events kicked off yesterday and will be running through December 20th, as we hope the end of the event will give us some clue as to how the League, in general, will run in 2021.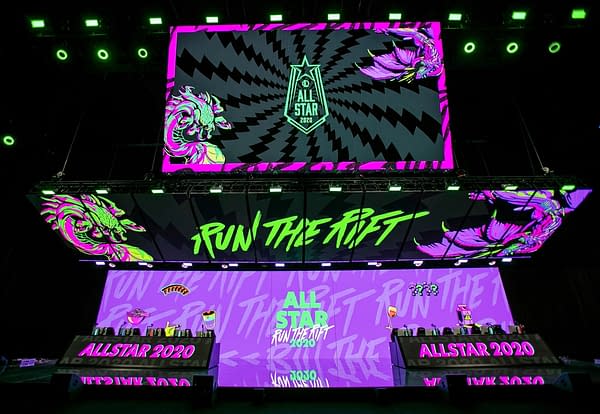 League Of Legends All-Star Format Changes For 2020

With All-Star going online, pros and influencers will be playing from their home or regional studio. That means a new format, divided into two stages: Underdog Uprising and Superstar Showdown.

Underdog Uprising Friday, December 18th will be a packed day of head-to-head matches between neighboring regions, with smaller regions aiming to upset their nearest powerhouse. Teams will be made up of top pros as voted by fans. Superstar Showdown December 19th-20th will feature three superteams each from the LCK, LCS, LEC, and LPL. LCK and LPL will take the virtual stage on Saturday, while the LCS and LEC will play Sunday. A special Red Bull 1v1 Competition will also take place within each of these four regions, with the first stage broadcast on the 18th and Semis/Finals on the 19-20th.