"LEGO Star Wars: The Skywalker Saga" Lets You Play in Your Own Order
Warner Bros. Interactive Entertainment and TT Games announced LEGO Star Wars: The Skywalker Saga at E3 this year, and we got a chance to check it out at the show. Unfortunately, the demo presentation at E3 was hands-off this year, so we can't tell you exactly how the game plays from personal experience, but we can tell you what we learned during the presentation and a quick interview with the development team from TT Games after.
The big piece of news shared during the presentation is that the game will launch with all 9 main Star Wars movies, and you can play them in whatever order you want. "You can start at A New Hope, you can start at Force Awakens, or go straight to Episode 9." And while you can't exactly skip any of the movies, you can just "not play one" and rock the games in Machete order.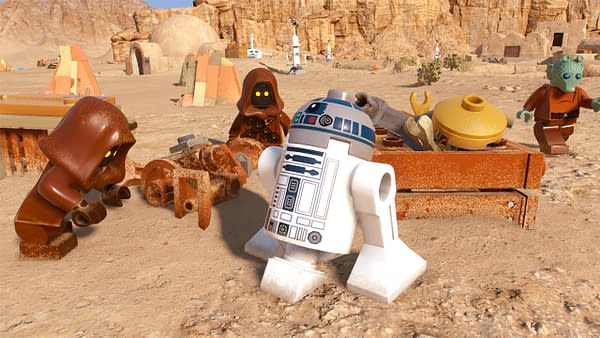 The game will also have some free exploration. While the world isn't quite fully open, you can go back to whatever planets you've unlocked and go exploring around Tatooine or kick back in Dagobah. There are plenty of things you can do while exploring, other than simply wandering around the virtual LEGO Star Wars world. You can use Jedi mind tricks to make Banthas dance or move around objects, and even pick up some kyber blocks.
All of the Jedi characters have access to the Force, and can use it in the ways fans are familiar with from the films. Meanwhile, other characters have their own unique twists. C3PO will, naturally, fall into pieces when you press the right button on your gamepad. Why? "Because that's what happens when you're C3PO."
You can even take your exploration to space, and zoom around the galaxy. While exploring, you will come across "plenty of random encounters" as you go, but you'll only run into enemies that make sense for the episode you're playing. "So if you're playing Episode I, you won't come across any First Order."
Honestly, LEGO Star Wars: The Skywalker Saga is absolutely poised to be the best LEGO Star Wars game they've ever made. And it is a brand new game. The older LEGO Star Wars games haven't just been remastered and dropped in. The Skywalker Saga is completely new. And it includes "every character from the Star Wars movies." Which is an absolute ton.
Unfortunately for the Expanded Universe fans, none of that content will be making it into the games, as this is just about collecting and giving you the chance to re-experience the films in a new way.