Light Fall Announced for an April 26th Release on Steam and Switch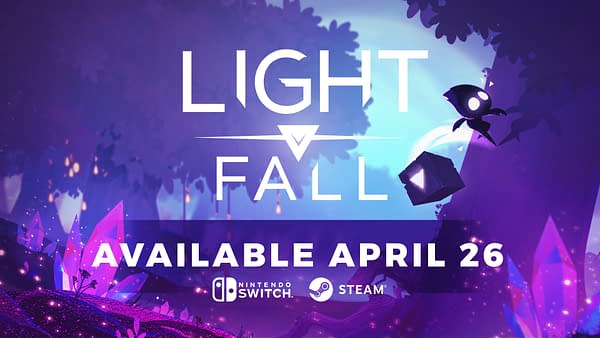 Bishop Games have confirmed the release date for Light Fall, their 2D platformer, which will hit Steam and the Switch on April 26th, 2018 after being delayed last month. Light Fall has a pretty obvious resemblance to a few other indie games, between the side-scrolling 2D platformer setup, the color pallet, even the design of the protagonist. Which meant, when I played the game back at PAX East, I had some trouble trying to find a part of it that was truly unique. In fact, the thing I found most unique about the game was its use of boxes in a world that hates loot boxes.
Light Fall may not be the most visually different game, nor is the gameplay too much different despite boasting a "versatile, player-controllable platform," however it does have its compelling moments. The game follows the story of a young boy on a quest through the mysterious universe of Numbra, a land where darkness rules over light. He's venturing into the dark to rescue a friend who vanished into the night. Using the magical shadow core and his companion owl Stryx, the boy braves the entire continent in search of his friend. Which is a decently touching narrative.
Key features of the game include:
The Ultimate Freedom: Control the Shadow Core, a magical box beneath your feet that can be used and controlled at will, to propel yourself into the air and move across the land in the way that you see fit to face the challenges of the game. With the Shadow Core, you become the master of your surroundings and create your own path.
An Immersive Journey: Immerse yourself in Light Fall's strange universe where darkness prevails over the light. Joining you on this adventure, Stryx the old and grumpy owl, will act as your sidekick and in-game narrator. Depending on his mood, he will either offer useful advice or bluntly mock your failures.
A Vast World to Explore: With the Shadow Core in hand, reach new heights and explore every nook and cranny of Numbra. Wander through the Lunar Plain, the Marshlands of Sorrows, the Vipera's Forest and the Unknown Depths, where shortcuts, alternative paths, hidden collectibles and easter eggs await you in large numbers.
Speedrun Competition: Quench your thirst for competition in the complementary Speedrun Mode. Revisit the world of Numbra and experience exclusive levels where the difficulty has been drastically increased. Compete with players worldwide and compare your fastest times with theirs on the online leaderboard.
Light Fall will hit Windows, Mac, and Switch on Apirl 26th. You can check out the launch trailer below.