"Magic: The Gathering" Pro Player Censored
Last night (Friday night, November 8th) at MagicFest Richmond, professional Magic: The Gathering player Autumn Burchett purportedly was instructed to remove two cards from their deck after the cards were found to have potentially divisive messages written on them. The messages included "No TERFs[…]" and "Trans Rights are Human Rights", which, while to some are controversial, are not inherently political messages, and are not to be seen as offensive or exclusionary except to an already exclusionary group.
TERFs, or "trans-exclusionary radical feminists," are defined as self-proclaimed feminists who do not acknowledge transgender individuals as being outside of the gender binary or of a different gender than they were assigned at birth. Terese Nielsen, a Magic artist, was found to be one of these people through her own Twitter posts, and although she has retracted these statements and has said that she has changed her stance, she still has liked Tweets by controversial groups.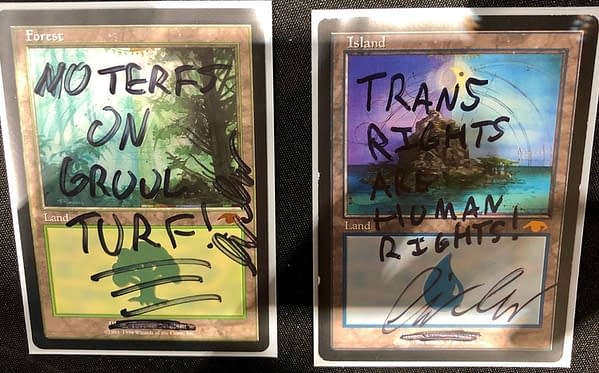 It was Nielsen's famous "Guru Lands" which were altered by Burchett or an affiliated party and then requested be removed from Burchett's deck, incidentally.
To make matters worse, according to Burchett, they were asked to remove their lands from the deck by Wizards of the Coast tournament officials and not a judge of the events.
Naturally, this decision has caused division amongst Magic players. Some are likening the act of protest against Trans-exclusionary radicals to Lee Shi Tian's protest in support of Hong Kong at the fifth Mythic Championship. Others are saying that this sort of protest should not be seen in Magic events, and that it differs from Lee Shi Tian's protest because it's more blatant.
Additionally, players who stand by Autumn Burchett's stance are complaining that their comments about this controversy are being stifled by moderators on the Mythic Championship Twitch stream.
Now, I don't know if Wizards of the Coast will publicly condemn this decision by tournament officials or not, but until we know that they do or if it's too late to, I'm not going to condemn Wizards of the Coast just yet for this. From what I can tell so far, this was the decision of one person or subgroup of individuals within Wizards and that Wizards hasn't had much time if any to say anything yet. I'm hoping we see a statement on Monday, but if by Tuesday we don't see anything it may be too late for Wizards to save face.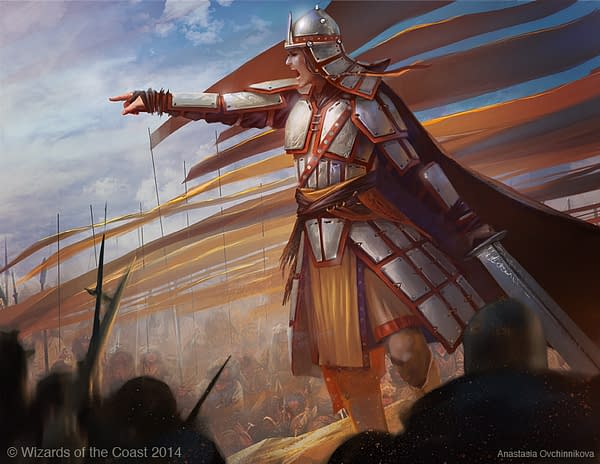 In the past, Wizards of the Coast has set a good precedent for their assumed stance on LGBTQ+ individuals through representation via their characters. For example, Ral Zarek is gay and Alesha, Who Smiles at Death is trans, as confirmed by their storylines. For the most part, Wizards has been trying to appeal to their LGBTQ+ players, and have released lines of product merchandise and apparel to show their support of this demographic.
What do you think? Was the Magic tournament official right in instructing Autumn Burchett to remove those cards? Is this an act of censorship? Is it right for Autumn to complain about this, or wrong?