Marvel Future Fight has Hit 100 Million Downloads Worldwide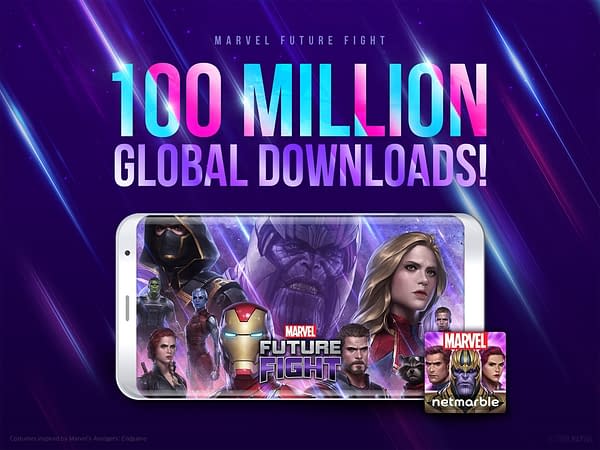 Netmarble has announced that Marvel Future Fight has surpassed the 100 million download mark worldwide after four years of service. To celebrate the milestone and the game's fourth anniversary, Netmarble released an infographic showcasing the progress players have made in-game.
In case you don't want to read the whole infographic below, here are some of the highlights:
Future Fight's 100,000,000 players own a total of more than 1 Billion heroes
The total in-game playtime for all players is over 40,000 years of time
Agents have saved the in-game universe from Thanos' wrath over 100 million times
They've also defeated over 3 million Sentinels and Master Molds
187 Marvel heroes have been added to the game since its launch in April 2015
There are 203 different Uniforms available for those heroes
As part of Marvel Future Fight's anniversary, Netmarble is launching special in-game events for Agents to dive into, including:
8 Weeks Login Event – When Agents log in to MARVEL Future Fight, they will receive rewards such as 6★ Mega Rank Up Ticket where you can get 6★ heroes such as Black Widow, Hulk, and Iron Man.
Fourth Anniversary Comics Card – Players will receive this special card when they log on from now until May 13.
Other miscellaneous activities include a 4th Anniversary Characters Voting Event, an Avengers Special Event Quest, where you can receive up to Tier-2 Mega Advancement Ticket.
Marvel Future Fight is currently available worldwide in the App Store and Google Play.
You can check out the anniversary infographic below.