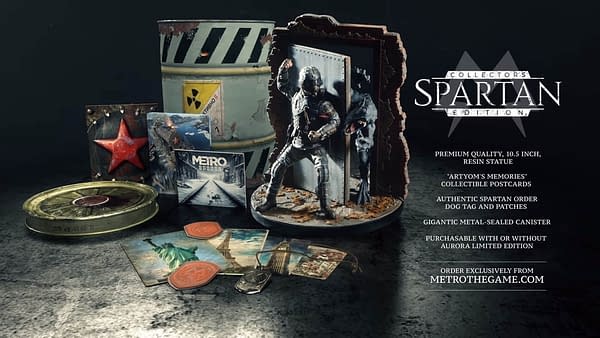 Deep Silver and 4A Games have revealed the brand new Spartan Collector's Edition of Metro Exodus this weekend. The collector's edition features a collectible statue, postcards, dog tags, and a sealed cannister for extra realism.
4A Games are only producing 4,000 units for the Spartan Collector's Edition, so if you want one, you'll have to pre-order it soon. The collectible bundle is a bit pricey, retailing at $149.99 USD with an extra $49.99 for shipping to the United States. If you want to get the Spartan bundle with the previously announced Aurora Limited Edition steelbook, artbook, and expansion pass instead of just the bse game, the price jumps up to $234.99 USD, plus even more for shipping.
While the Spartan Collector's Edition isn't the most expensive collector's edition of 2019 so far, it is up there with Fallout 76 and Devil May Cry 5. Granted, its pretty hard to beat DMC5's $5k minimum price tag for the Ultra Limited Edition.
The Collector's Edition announcement also came with a trailer, because of course it did. That trailer also gives us a glimpse at the gameplay, lighting, and animation of Metro Exodus which is always a nice bonus for a trailer focusing on collectible goods. The absolute highlight of the trailer, however, is the 10.5" collectible statue, as it should.
Metro Exodus will release on February 22, 2019. You can check out the Spartan Collector's Edition below or check here for the Aurora Limited Edition and base game pre-order bonuses.
Enjoyed this article? Share it!