Milestone's Gravel Tours Around Iceland in First major DLC 'Ice & Fire'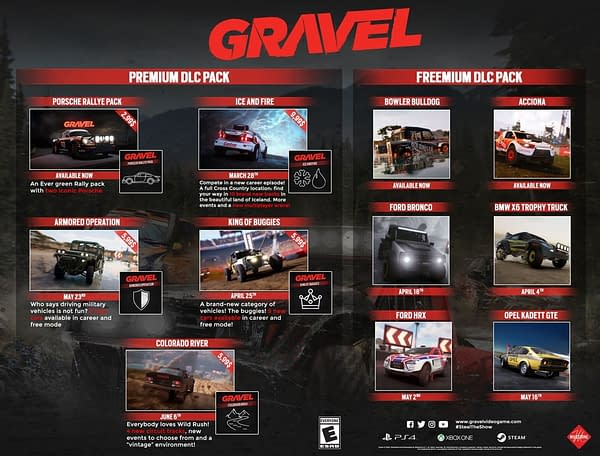 Milestone S.r.l. is rolling out the first major DLC expansion for their arcade-style racer Gravel on March 28, 2018. Alongside the announcement of Ice & Fire's release date, Milestone also revealed their post-launch roadmap which you can check out above. We're getting six single-car expansion packs for free, with five paid DLC packs between now and June of this year, which is 11 DLC in just three months.
Now, Ice & Fire, while the game's second paid DLC, is the first to add a ton of new content to the game. The Porsche Ralley Pack brought a couple of cars, but not much else. It also released at the same time as the base game, either as Season Pass content, or packaged in a deluxe edition of the game. Making Ice & Fire the first proper DLC for the game. And it brings quite a bit to the arcade racer. We get a new cross-country map set in Iceland, which comes with 10 new checkpoint tracks, a new career episode – the Ice and Fire race – and new events with extreme snow tracks. The new events come in three different settings: coast, mountain, and valley. The DLC maps and events are illuminated by the gorgeous aurora borealis, and allows players to race inside dormant volcanoes and visit iconic fishing villages. Gamers can enjoy the modes Capture the Flag and King's Run in a never-before-seen multiplayer arena.
While part of GRAVEL's Season Pass, Ice & Fire will be sold separately at $9.99. The DLC will release on March 28 for PS4, Xbox One and Steam.
It does not come with obligatory Song Of Ice And Fire references, sadly enough.
You can check out the DLC trailer for Ice & Fire below.