Minecraft & BBC Earth Launch Frozen Planet II Content
BBC Earth and Mojang have teamed up again to bring several packs of content to Minecraft with Frozen Planet II.
---
Mojang has once again partnered up with BBC Earth as they have launched Frozen Planet II for Minecraft as educational content. The move comes as the actual docuseries it's based on will start airing in North America on January 28th, so to bring some of that to the game, they will release five Minecraft worlds inspired by each episode. Completely free on both Minecraft Bedrock Edition and Minecraft Education. The series has already been a popular one with players and educators, so we're guessing this will end up having the same kind of response. What's more, BBC Earth and Mojang Studios will share the DLC worlds with members of the European Parliament in Brussels this February. We got more info on all of the content for you below, along with a trailer showing parts of it off.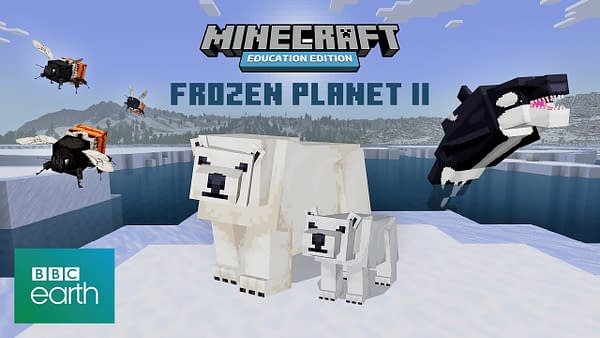 "For the first time ever, Minecraft players will play through the lens of an animal and explore the impact of climate change through a unique, immersive gaming experience. Experience life through the eyes of the astounding creatures that call the frozen parts of our planet home in this new content from Minecraft Education and BBC Earth. Inspired by stories in Frozen Planet II, the new landmark series from BBC Studios' Natural History Unit, this content is available in the Minecraft Marketplace and Minecraft: Education Edition. Fight for survival in cold habitats and become a cryosphere expert from tip to tail! Protect your polar bear cubs, hunt as a killer whale, and gather nectar as a bumblebee. Play as eight different animals and learn what it takes to survive and thrive in the harsh conditions of the global cryosphere. Engage students with a free curriculum that includes lesson plans and discussion guides. Learn about the remarkable animals of our frozen planet and the impacts of climate change on their habitats."