Monster Hunter Generations Ultimate Gets a Zelda Armor Crossover
Capcom and Nintendo have partnered up for a very special armor being added to Monster Hunter Generations Ultimate that Zelda fans might enjoy. The new content will be a couple of costume additions from The Legend Of Zelda; Breath of the Wild for both the player and the palico that have you dressed up as Link in his Champion's Tunic and the palico as a Korok. But these aren't simply cosmetic choices, as you can see int he trailer below, with both costumes giving you some interesting abilities that harken back to the series in different ways.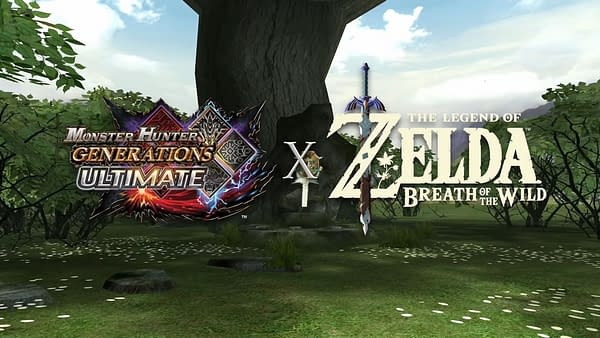 Along with laying traps, the Link costume can also throw down a barrel that can be shot to explode. Making them an idea placement next to traps when your intended target comes around. We're not entirely sure what the Korok costume does, but it looks pretty fun. As you can see in the video at one point, there appear to be two more additions made to the game on your ship, as you can see an adult Link from what appears to be Twilight Princess, as well as a Toon Link with cat ears. Basically, it's all just some cool fan service to Zelda fans who also play Monster Hunter Generations Ultimate.