Square Enix has partnered with Dippin' Dots for the upcoming release of Chocobo's Mystery Dungeon: Every Buddy! The collaboration will see four chocobo-themed flavors come to various Dippin' Dots locations as well as some prizes for fans of the Chocobo's Dungeon series. Or Final Fantasy in general.
The four new flavors are really just puntastic takes on existing flavors: White Mage's Healing Vanilla, Scholar's Book-ies n' Cream, Red Mage's Sweet Strawberry Spell, and Dancer's Banana Split.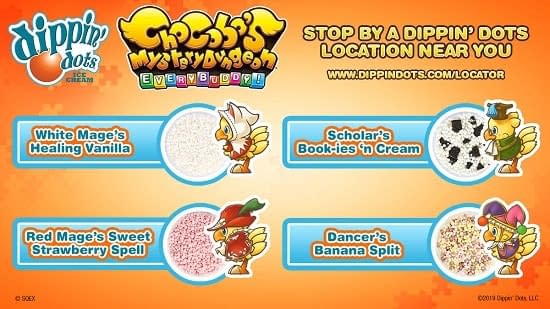 The Dippin' Dots Chocobo's Mystery Dungeon: Every Buddy! sweepstakes will run from today, March 1st, through March 31st. Prizes include Nintendo Switch systems, digital copies of the Chocobo's Mystery Dungeon game, and free orders of Dippin' Dots.
Participants can visit the Dippin Dots website to enter for a chance to win. Guests who visit participating Dippin' Dots locations can enter the in-store giveaway for a chance to win exclusive themed lunch boxes and pins as well as take part in the regular sweepstakes.
Three Grand Prize winners will be chosen from the sweepstakes to take home a Nintendo Switch, a copy of Chocobo's Mystery Dungeon: Every Buddy!, a lunchbox, and free Dippin' Dots home delivery. 10 runners up will receive digital copies of the game and the free Dippin' Dots delivery, but will miss out on the lunchbox and Switch console.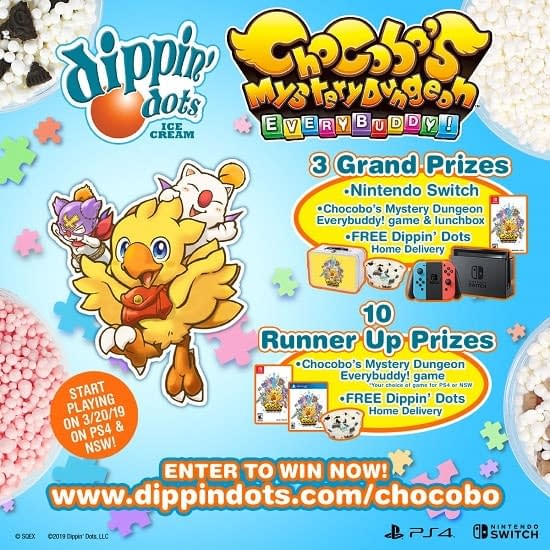 Enjoyed this article? Share it!