New Simulator Game Hotel Renovator Arrives This March
Have you ever wanted to renovate a hotel? Well, now you can this March as Focus Entertainment will release Hotel Renovator.
---
Focus Entertainment and Two Horizons have revealed a brand new simulator title, as Hotel Renovator will be coming out in March. As you may have guessed from the name and the genre alone, you'll be taking over a hotel and turning it into the dream stay for anyone passing through your neck of the woods. Take over your grandpa's old property and dream of having a major hotel in the city, which he never completed, and you are now tasked with finishing. The game will be released for PC on March 7th, followed by a console release for PlayStation and Xbox later this year. Until then, enjoy the trailer below!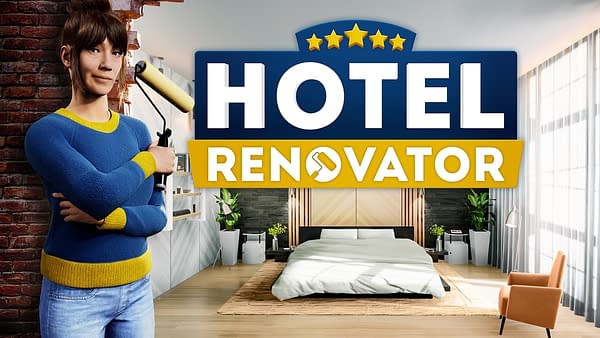 "Unleash your creativity and design the hotel of your dreams! Embark on a makeover journey and turn a worn-out hotel into a successful getaway. Manage new amenities, design intricate and personal rooms with more than 2000 designs of appliances and create an exceptional place that eclipses the golden age. Play the way you want, share your best creations with the community, and find inspiration from other renovators. You inherit an old, neglected hotel in decrepit condition. Others have given up hope, but you sense the extraordinary potential erupting out of this place. Before you unveil this hotel's beauty you'll first have to destroy every eyesore. Grab your tools to tear down that old wallpaper, rip up the panel flooring, and bust through walls to get out with the old and in with the new."
"Express yourself and customize away! Modern, retro, cozy, or even funky, enjoy endless possibilities! You'll be able to choose from more than 2000 designs of appliances, lights, curtains, rugs, paintings, materials, and colors to decorate the hotel in your style. The higher the standard you maintain, the more money you earn. Invest in the amenities and attractions at your Hotel to stand out. Buy an old swimming pool or restaurant to attract more guests! Meet their needs, keep rooms tidy, and repair issues quickly. If you leave a great impression on a guest, you'll get 5-star reviews! Discover the secret history of your family hotel as you meet the needs of colorful VIP clients in Story Mode. If you're looking to test your interior design abilities with picky customers and challenges, this is the spot for you. It's up to you to make a name for yourself in the hotel industry."