Nexon America Announces 3v3 Shooter Rocket Arena
Nexon America and Final Strike Games are bringing the brand new first-person 3v3 multiplayer shooter Rocket Arena to closed beta on PC.
The beta will occur from May 23 to May 29 via the Nexon Launcher and Steam. Players can sign up for a chance to blast off this exclusive round of beta testing here.
Rocket Arena is a 3-on-3 cross-platform game that features a roster of vibrant characters competing in quick 5-minute matches in the Rocket Championship Tour.
In a unique take on the multiplayer shooter genre, players are equipped with a blast meter that increases as they are blasted by rockets. As the meter reaches its critical point, players become susceptible to being knocked out of the map, but will quickly return to the stage to stay in the action.
Rocket Arena will also feature dedicated matchmaking functionality to account for skill level and latency when pairing players together.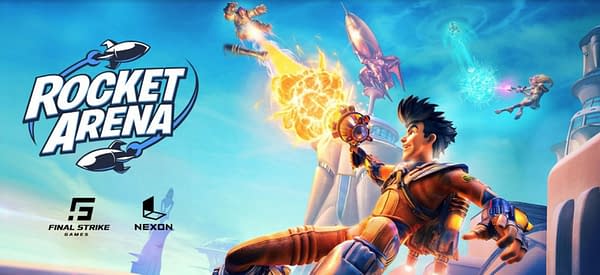 "We developed Rocket Arena with high-quality gameplay mechanics, superb controls, and the network code required of an online FPS. Rocket Arena is an intricate shooter at its core, complete with a marvelous world, colorful characters, and ridiculous rockets," said Kevin Franklin, Founder/CEO of Final Strike Games. "Nexon shared our vision for Rocket Arena and provided the resources and expertise to realize our goal. The result is a game that our team is exceptionally proud of, and look forward to playing every day."
The closed beta period features a selection of six maps, four game modes, and six characters. Players participating in the beta will also be able to earn cosmetic rewards to use in the release version of Rocket Arena.
Rocket Arena will be available for cross-platform play on PC and Xbox One at launch, with PlayStation 4 currently in development.