Developer Metronomik and publisher Sold Out's colorful collaboration on the rhythm-focused No Straight Roads had another update today, but it's not one that fans would have been clamoring for. The game has been pushed back from its planned June 30 release date to a more nebulous "later in the summer." Here's a snippet from the statement made by director Wan Hazmer.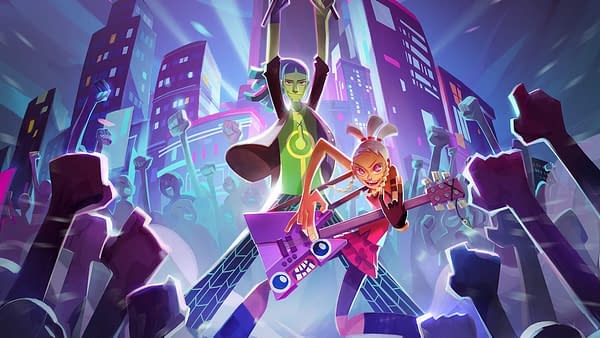 "Like you, we were very excited for the June 30 release of No Straight Roads, especially now that we were able to tell everyone that we are releasing the game on multiple platforms. However, based on recent information, due to the complications that arose from the global pandemic that we're facing today, we've had to make the heartbreaking decision to delay the release of the game until later in the summer. We know that is going to disappoint a lot of you who can't wait to play the game next month. However, we are trying our best to make the delay short. And we are trying our best to get the game in your hands as soon as possible. Now you will see the release date listed at retailer sites as August 31, but that is just a placeholder date. Once we have some information on the release date, then we will let you know immediately."
No Straight Roads follows indie rock band Bunk Bed Junction, comprised of members Mayday and Zuke. They were on their way to make it big in the music business in Vinyl City before being dismissed as a rock band since EDM is the only real genre being celebrated in the city. Mayday and Zuke have to start a musical revolution if they want to make a change, and that's where you come in…when you can, anyway, since the game has been delayed.
If you were hoping to round out your summer with a trip to one of the funkiest-looking platformers we've seen in quite a while, you may still be able to. It's just going to have an unconfirmed release date for the moment. We'll have to wait a bit before No Straight Roads is ready, sadly.
Enjoyed this article? Share it!