With people seemingly leaving the Overwatch League left and right, the league has decided to do some shifting of personnel for Season Three. Over the past week, we've talked about three personalities who have departed now that their contracts are up. As the league will apparently now be moving on without Christopher "MonteCristo" Mykles, Erik "DoA" Lonnquist, and Chris Puckett. On the broadcast side of things, however, they have already made decisions to replace the two casters who left. As Brennon "Bren" Hook and Josh "Sideshow" Wilkinson will be moving into those roles starting in February with the season kickoff.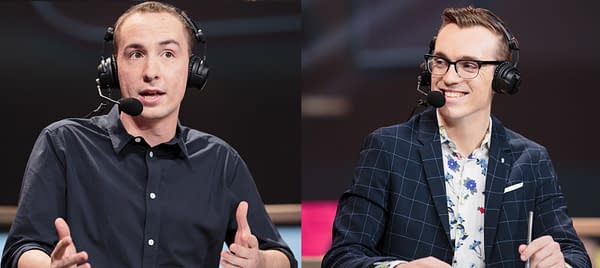 Meanwhile, it appears we're slowly getting confirmation over which other talents are sticking around or leaving. Soe Gschwind posted a goodbye note to Puckett, while also somewhat confirming that she may be staying for Season Three. Malik Forté also posted his own wishes to MonteCristo, slightly confirming in a way that he's still with the Overwatch League this season as well. We'll see if either of their roles change this year as we get closer to February and the start of the season.
I struggle to imagine this league without you, @MLGPuckett – you are one of the most positive, hard working & talented individuals I've ever had the privilege of working with. I'll 4ever treasure the memories we made ❤️ Glad to b able to call u family now. Thank u for everything! https://t.co/tRgllCkcLg

— Soe Gschwind (@Soembie) January 1, 2020
This dude is one of the most world class individuals I've come across in my gaming journey. Seriously gutting how the team is splitting off, but many hearing about the great things on the horizon has me excited. All the best to you in your future endeavors Monte! https://t.co/ihpLHA3XrT

— Malik Forté 🎤 (@Malik4Play) December 31, 2019
Enjoyed this article? Share it!