Developer Night School Studios has announced its next game, their second title after Oxenfree. It's called Afterparty and it has one hell of a premise.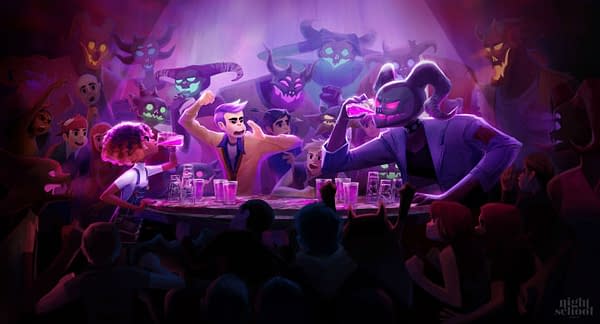 The game follows the story of Lola and Milo, who have been good friends all their life. As they are about to head separate ways before they head to college, they both die. They find themselves in hell and learn that the only way to get out is to challenge the devil to a drinking contest and win. As reported by IGN, the game will be a demon-filled pub crawl as you try to escape. There will be lots of bars, each with different eco-systems and traits. Even different drinks will have different effects. It's also added that the game will likely land 2019.
There isn't a ton of information out there about what the game actually is or how it will play, but it is said it will be an "adventure game". In that case, one would have to imagine that it will in some way resemble Oxenfree.
This certainly is a lot more silly and out there than Oxenfree's tone. While that game could throw some fun supernatural moments at you, this seems like a whole other level. I kinda dig a developer who is willing to have their second effort so off the wall. I'm definitely keeping an eye on this one.
Enjoyed this article? Share it!