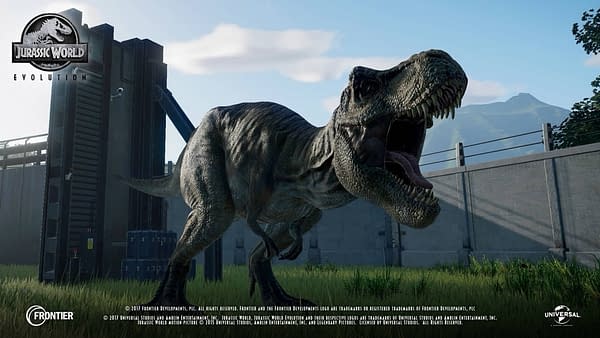 Theme park management strategy simulators are getting a particularly prehistoric twist with Jurassic World: Evolution which puts players in control of the titular theme park. The game was announced back at Gamescom in August 2017, and now we know when the game will launch.
Evolution will release just ahead of Jurassic World: Fallen Kingdom this summer. The park management sim will release on June 12 for Xbox One, PS4, and PC, as outed by Instagram user failcube (spotted by PlayStation Lifestyle) in a photo taken from a recent preview event.
The game is being developed by Frontier Developments, who are known for their work on the RollerCoaster Tycoon series of theme park sims as well as the multi-player space epic Elite: Dangerous.
"As long-time fans of the entire Jurassic series we're thrilled to be putting players in charge of their own Jurassic World," said Frontier's Chief Creative Officer, Jonny Watts. "We're excited to bring over fifteen years of management, simulation, and creature development expertise to a destination and franchise that remains an inspiration to us."
And because you can never get enough of Jeff Goldblum, developer Frontier Developments released a guide video for the game featuring the well-known actor. And yes, he will be reprising his role as Dr. Ian Malcolm in the game. You can check that out here.
Enjoyed this article? Share it!