Penny Arcade's Acquisitions Inc. Joins Pocket Paragons
Penny Arcade has teamed with Solis Game Studio to add the primary characters from Acquisitions Inc. to Pocket Paragons.
---
Solis Game Studio has partnered with Penny Arcade to bring the characters from Acquisitions Inc. over to Pocket Paragons. This brand-new expansion will bring over several characters from the main game and put them into the fray with their own abilities that are true to the characters. To be clear, this is from the primary game with the current roster of characters, so sadly no C-Team or guest characters. This is one of two expansions (the other being Space Lion) that will be getting a Kickstarter campaign in late February to help produce. You can read more about this expansion from the company's own Chris Solis about the creation of this deck, and get a more in-depth rundown from the game's blog.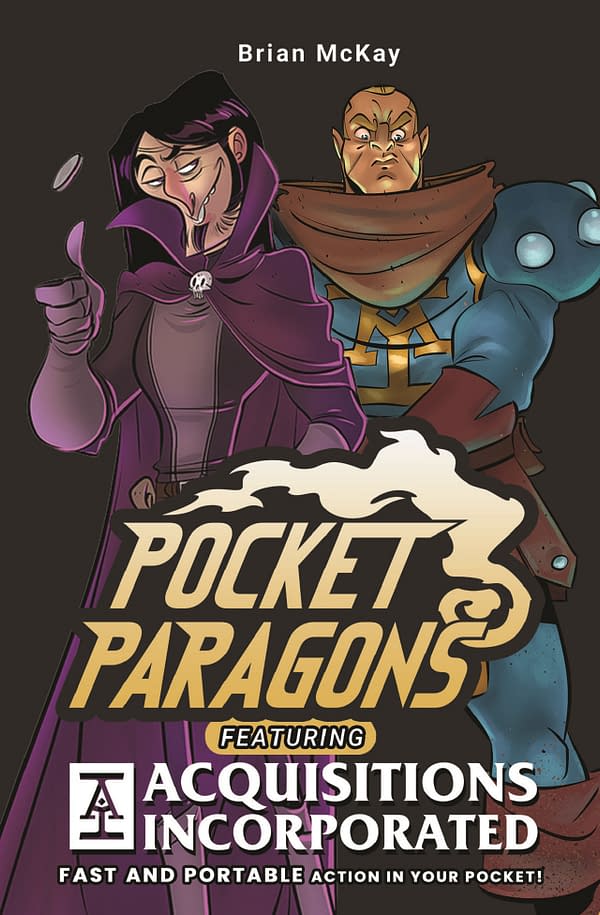 "I've been a long-time fan of Penny Arcade, and when I would attend Penny Arcade Expo (PAX) every year, getting to watch their Acquisitions Incorporated live gameplay sessions was always the highlight of my con. When Jerry Holkins of Penny Arcade tweeted me out of the blue saying he loved Pocket Paragons, it was a surreal experience, and when that eventually led to us teaming up with Penny Arcade to do a special crossover box, I was over the moon!"
"The biggest challenge in designing this box was making it feel distinct from Pocket Paragons Origins. After all, the game already had a Paladin, a Monk, a Bard, and a lot of other staple RPG fantasy character tropes that had overlap with the characters featured in Acquisitions Inc. I decided to put the focus on creating the feeling of "leveling up", because that's my favorite part of playing role playing games. Leveling up and learning new spells and abilities is an exciting thing to look forward to!"
"Early mechanisms I tried out included having characters gain multiple new abilities as they gained energy. Not ultimates that needed to be re-earned, but adding more and more "regular" abilities so it felt like your spellbook was expanding. It ended up being too powerful having all these extra cards, even if those cards were weaker– and what's the point of even doing it, if the extra abilities need to be so weak that it's not even exciting? I also tried a version where each character had a "signature" ability that got upgraded to more powerful versions each time you gained energy, sort of like DeMattei's kit from the Temporal Odyssey box."