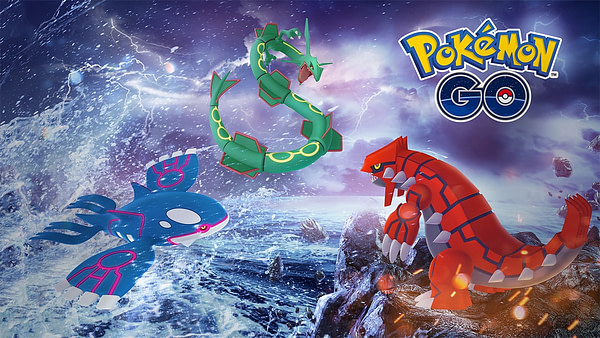 Niantic Labs has released a new event for Pokémon Go this weekend that features Pokémon Ruby and Sapphire's Kyogre, Groudon, and Rayquaza. The event, called Legendary Week, will run from today through March 5th. The event releases raids for Rayquaza (the current featured raid Pokémon), Kyogre, and Groudon to players.
As Niantic put it in their post on the Pokémon Go blog:
Now is an excellent chance to finally catch all three ancient Legendary Pokémon originally discovered in the Hoenn region!

Kyogre, Groudon, and Rayquaza each have their own strengths and weaknesses, so challenging all three will take skill! Power up your strongest Pokémon, grab your friends, and head to nearby Gyms for a chance to battle and catch them from February 23 until March 5.
During the event, Niantic labs will be tallying the number of Pokémon defeated to determine new content coming to the game. If players defeat more Rayquaza than Kyogre and Groudon, the game will offer eggs for Pokémon who prefer windy weather during the period of March 5th to March 16th. Those eggs could hatch the sought-after Bagon.
If more Kyogre or Groudon are defeated, the eggs will feature Pokémon who prefer sunny or rainy weather. Like Trapinch or Lotad.
Because Bagon evolves into Salamence, players will likely be hoping to defeat more Rayquaza during Legendary Week.
In addition, Niantic is debuting new special boxes today on the in-game store. Those boxes will contain Raid Passes to help you prep for the event.