Pokémon Trading Card Game Artist Spotlight: Atsushi Furusawa
Our weekly Pokémon TCG Artist Spotlight covers newcomer Atsushi Furusawa who has arrived with class, delivering fan-favorite Alt Arts.
---
Throughout the years, the Pokémon Trading Card Game has featured a variety of incredible art styles. Now that the hobby has been around for more than a quarter of a century, we have seen the artwork of Pokémon TCG cards elevated by daring new artist choices as well as illustrators who have been veteran contributors since the very first releases. Let's take a journey through the eye-popping, mind-expanding history of Pokémon TCG artwork by exploring some of the hobby's most interesting and unique artists. Today, we will spotlight Atsushi Furusawa.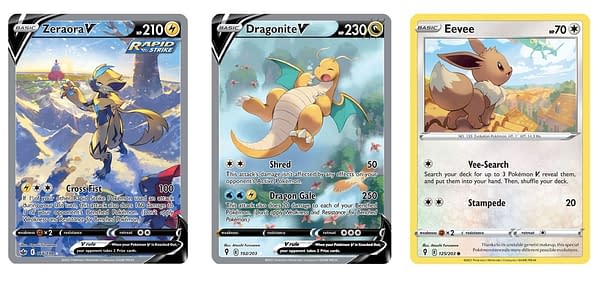 Whenever I do these spotlights, I am always surprised when I see how some artists who have come to feel like staples of the hobby have only been contributing for a few years. Atsushi Furusawa was first credited in 2021's Sword & Shield – Chilling Reign. This was the second expansion of the Sword & Shield era to feature Alternate Arts, and Furusawa came out swinging with a highly coveted Alt in their very first set: the Zeraora V Alternate Art. Not to let their first work be known as their biggest hit. Furusawa delivered a one-two punch with two all-timers in the next set, Sword & Shield – Evolving Skies. Those were the sleepy Dragonite V Alternate Art and the adorable Eevee where, memorably, the beloved Pokémon looks to the sky to see Rayquaza. Furusawa's Eevee encapsulated the entire theme of Evolving Skies with a single image.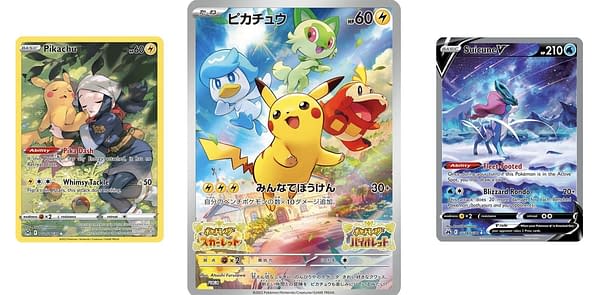 Furusawa has continued to deliver stellar cards all through 2021 and 2022. Their style utilizes depictions of Pokémon and Trainers that would be familiar to those who love the anime, but Furusawa adds such a gorgeous sense of texturing, depth, and character with the emotion of the Pokémon, the coloring, and posing choices. Some more recent Furusawa hits are the Pikachu Character Rare from Sword & Shield – Lost Origin and the Suicune V Illustrator Rare from Crown Zenith.
Now, we know that we'll continue to get stellar Atsushi Furusawa during the Scarlet & Violet era due to the release of a Japanese Pikachu card showing the franchise mascot with the three Paldean Starters, Quaxly, Sprigatito, and Fuecoco. I can't wait for this one to come out in English.
Be sure to check Bleeding Cool every day to follow our in-depth Pokémon TCG coverage as we explore the hobby's past, present, and even future with upcoming set reveals.