Pokémon Trading Card Game Artist Spotlight: Ryuta Fuse
Today's Artist Spotlight takes Pokémon TCG fans on a visual history through illustrator Ryuta Fuse's work, beginning in Alola.
---
Throughout the years, the Pokémon Trading Card Game has featured a variety of incredible art styles. Now that the hobby has been around for more than a quarter of a century, we have seen the artwork of Pokémon TCG cards elevated by daring new artist choices as well as illustrators who have been veteran contributors since the very first releases. Let's take a journey through the eye-popping, mind-expanding history of Pokémon TCG artwork by exploring some of the hobby's most interesting and unique artists. Today, we will spotlight Ryuta Fuse.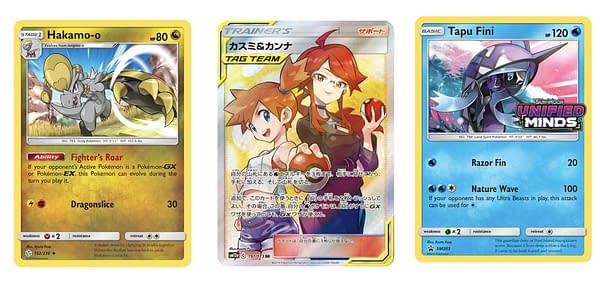 Ryuta Fuse had their debut in the Pokémon TCG with Sun & Moon – Cosmic Eclipse, the final expansion of the Alola-themed Sun & Moon era. Earlier credits appeared as SM Black Star Promos, so it's hard to track which card was actually the first one contracted. Cosmic Eclipse included Fuse's Hakamo-o and N's Resolve, while the SM Black Star Promos included a Tapu Fini pre-release card for the previous direct set, Sun & Moon – Unified Minds. The most popular Ryuta Fuse card to come out of the Sun & Moon-era was Misty & Lorelai Full Art from Tag Team GX All-Stars, the final high-class set of Japan's Sun & Moon block that was unfortunately never adapted to English.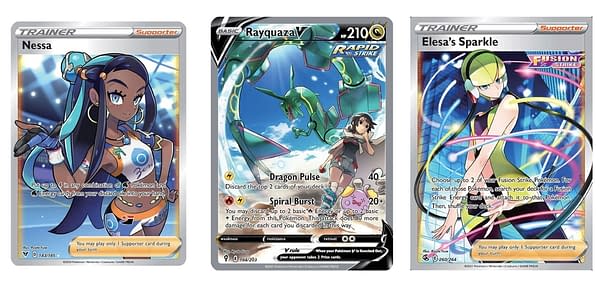 Ryuta Fuse continues to work for the Pokémon TCG in the Sword & Shield era. Somme of Fuse's most memorable cards are the Nessa Full Art from Sword & Shield – Vivid Voltage, Rayquaza V Alternate Art from Sword & Shield – Evolving Skies, and Elesa's Sparkle from Sword & Shield – Fusion Strike. During the final years of the Sword & Shield era, Ryuta Fuse ended up moving beyond the airbrush style of coloring we initially saw and rather to a detailed, highly rendered style that makes Pokémon cards look like scenes from major anime films. The Rayquaza V Alternate Art is a major example of this, pairing the Trainer Zinnia with Rayquaza for a mysterious and emotionally impactful single-image story.
Be sure to check Bleeding Cool every day to follow our in-depth Pokémon TCG coverage as we explore the hobby's past, present, and even future with upcoming set reveals.