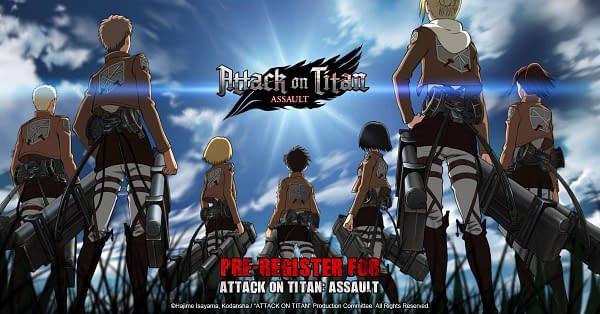 The mobile game based on the popular manga series Attack on Titan: Assault is now available for pre-registration. At least, on the Google Play Store. iOS users will have to wait a bit, but the game will be available on Apple devices soon.
Developer GameSamba also announced that they are aiming to fully launch Assault sometime very soon, so you'll want to keep an eye out if you do pre-register for the app.
Assault will allow players to battle titans on their mobile phones, combining the elements of an RPG with a runner in order to replicate the fast-paced action of the titan battles from the anime series. Players will have to use careful planning and quick reflexes to survive. The game will include multiplayer features and deep persistent elements, while also providing a good single player experience.
Do note, Attack on Titan: Assault is based on the manga "Shingeki no Kyojin" by Hajime Isayama rather than the uber-popular anime. However, much is the same between both series.
To pre-register for the Attack on Titan mobile game, head on over here.
Enjoyed this article? Share it!