The PS4 Version of H1Z1 Will Finally Receive Battle Royale
In case you've been wondering when the PS4 version of H1Z1 would finally receive the full version of Battle Royale mode, the time is nearly upon us. Today Daybreak Games made the official announcement that the mode would leave open beta and be added in-full to the console on August 7th. As a bit of a bonus, the company will include a few extra items when it officially goes online.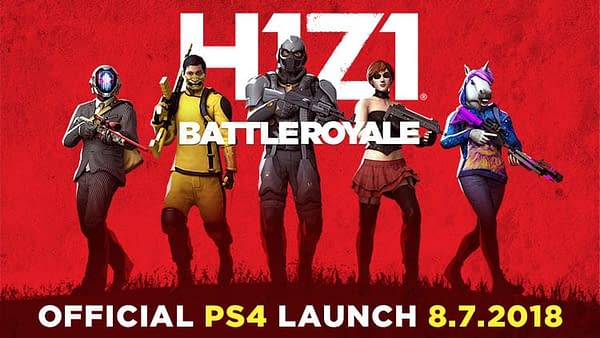 Two New Weapons: The explosive RPG and deadly SOCOM Sniper Rifle add new tactical layers to

H1Z1

's fast-paced gameplay
New Vehicle: The ARV fits an entire fives squad, with a pop-out hatch for your team's best marksman
Battle Pass Season 1: Players can now unlock new additional content across 3 distinct reward lines (free, premium, and PS Plus)
Two New Launch Bundles: Gear up with the Hardline Deluxe Bundle or kung-fu inspired Viper Starter Bundle for max character customization
Additional Performance Optimizations and more: Weapons, movement, airdrops, and loot distribution have all been tuned and improved
The one downside to all of this is the fact that Sony doesn't do crossplay, so PS4 owners will be stuck playing other PS4 owners. But considering H1Z1 managed to get 10 million players on the console, at least they won't be lonely.