PUBG Mobile Reveals Plans For Fifth Anniversary Celebrations
Celebrate five years' worth of PUBG Mobile as the team will be releasing an all-new update with party favors on March 18th.
---
Krafton Inc. and Tencent Games revealed their plans for the next update to PUBG Mobile, which will celebrate the game's fifth anniversary. The team will be releasing the 2.5 Update on March 18th, and with it will come a multi-map makeover with celebratory decorations everywhere, a ton of special supplies loaded in, four new items to party with, a new heavy-duty payload, new rewards, new consumables, and more. We have some of the dev notes for you below of what to expect, and you can visit their website for a more detailed account of what's to come.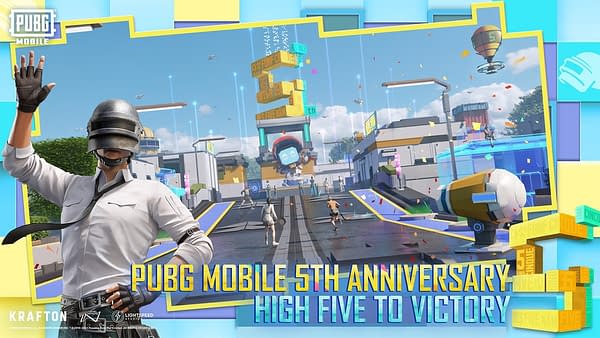 "Today PUBG Mobile is pleased to announce World of Wonder, a free build mode equipped with endless possibilities to give players' a brand new way to play PUBG Mobile. Launching in beta on March 16th, players will immediately be able to witness the possibilities the new mode provides by jumping into a multitude of new maps and game modes as part of World of Wonder's exciting rollout. During the Beta phase of World of Wonder, players will also have the chance to apply to become creators to get their hands on World of Wonder's editing features themselves. Stay tuned for more updates on World of Wonder's editing access in the near future."
"In the next stages of World of Wonder's testing, the battleground will become an architect's playground with four landscapes to build in from the ground up, inspired by some of Erangel's iconic locations – Bird's Perch, Coral Reef,Jade Realm as well as the entire Erangel landscape itself. Construct the skyline with different objects, materials and building types using a range of specially designed tools to copy, delete, rotate, zoom in and out, free fly, and more with just a swipe. With more advanced features, budding game designers will be able to set game parameters, and within them a host of gameplay devices and objects, that together can introduce new mechanics and ways of playing PUBG Mobile! The World of Wonder creators will be capable of creating experiences that cover a wide selection of play genres including Arms Races, Deathmatches, Racing, Battle Royales, and much more."
"But not to worry – those who find starting from scratch a little too daunting will be able to begin with two preset gameplay templates: Erangel Mod, featuring a default classic battle royale format, and Craft Mod, which will work as a 4v4 Team Deathmatch on a brand new map constructed using World of Wonder. Whilst these editing features will not yet be widely available in the Beta version, beginning on March 16th, players will be able to explore maps and modes created by other players to get inspiration for their own forthcoming builds! World of Wonder has a list of suggestions to show the officially recommended and most popular builds to try out."