Super Smash Bros. is one of the most popular games to come out of the Nintendo universe. This crossover fighting game has won over countless fans worldwide and has become one of the most popular tournament games. As someone who's played Smash for a very long time now, I've always adjusted fairly easily to whichever Nintendo controller I'm using. But it always seemed like something was missing. Something that could make the game more interesting, and would take me back to my days at the arcade.
That's where the Smash Stick comes in. This analog joystick allows the player to perform subtle inputs that are normally not possible with a traditional digital joystick. The ergonomic design also gives players hands and wrists a break by reducing strain. And when you're in the heat of the moment during a critical spot in Smash, don't you want to be as comfortable as possible?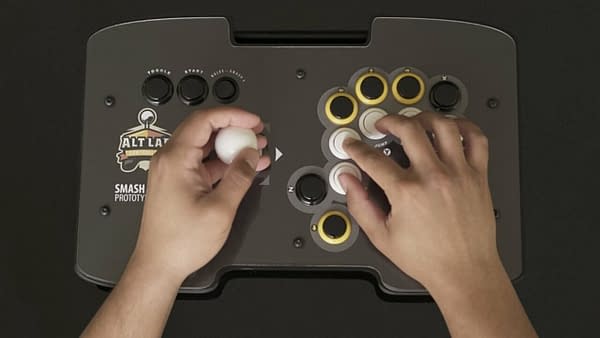 The Smash Stick is also compatible with the following consoles: Nintendo 64, GameCube, Wii, Wii-U, Switch, PC, PlayStation 3, and PlayStation 4. The PS4 will require a brook super converter. Players can also customize their Smash Stick with their own artwork, giving them creative control so no two controllers look alike. The buttons on the SMash Stick are all 24mm Sanwa Buttons, giving them that old school arcade look and feel.
On top of that, the Smash Stick is tournament legal. Will it give you an advantage over other players? We can't say for sure, but it will make playing Smash Bros. more fun. The Smash Stick is currently not available yet, but its Kickstarter will be launching in June of 2020. Check out their website for more specs, videos, and more. Are you excited about the Smash Stick? Have another Kickstarter you think we should check out? Let us know in the comments below, or shoot me a message on Twitter (@BaltimoreLauren). Cheers!
Enjoyed this article? Share it!