Review: "Dungeons & Dragons" Descent Into Avernus Dice
This week, Dungeons & Dragons released their latest adventure, Baldur's Gate: Descent Into Avernus. We'll be talking about the adventure later, but first, we got dice! Every so often, Wizards of the Coast will put together a special version of the needed dice to play a regular D&D game together. The last set we reviewed came to us for their 2017 adventure, Tomb Of Annihilation, and they released a set for the Waterdeep campaign in 2018. As we plunge ourselves into Avernus this year, we get these special premium dice and other goodies to review.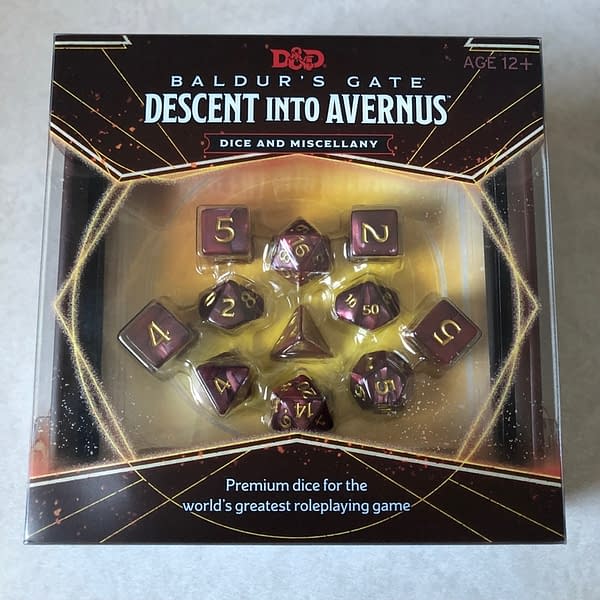 The box itself isn't just an ordinary box, it's also a dice tray and storage for the extra items included in the set. Starting with the tray aspect, both the top and bottom of the box has a felt cushion for you to drop the dice in as you play, along with special Avernus art on both sides so you can choose to show off a hell-ridden skull or a fiery red "&" symbol from the company.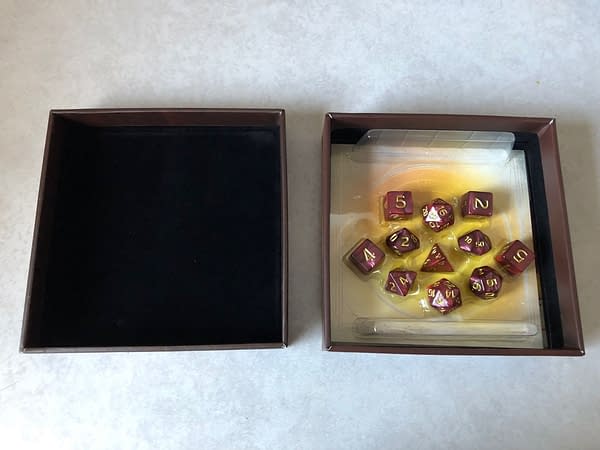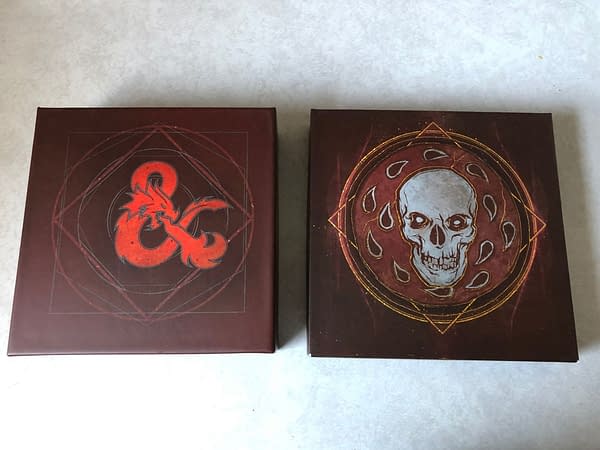 The box itself can be set up like this to show off the art and also keep your dice rolls hidden away from the prying eyes of other players or the DM. I kind of hid this compared to others in the past where the dice just came in a tin with some foam around them. This one feels like it was meant to be shown off and played with frequently.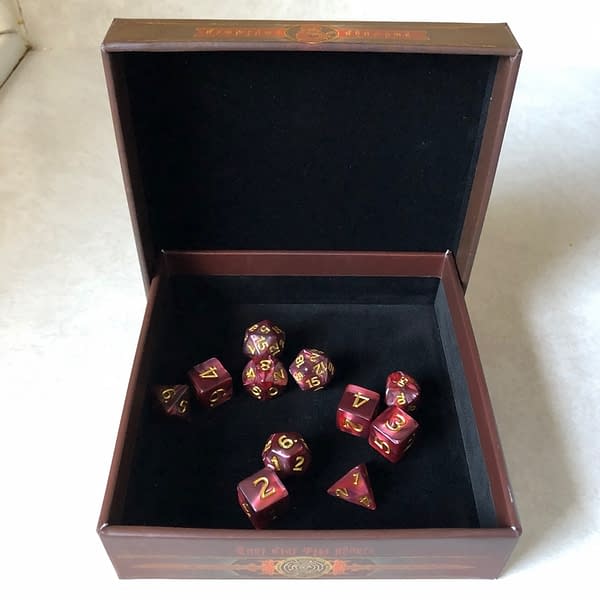 The dice themselves are pretty cool looking. These are your standard thermoset plastic, designed in a mixture of scarley and amber-based reds that blend and flow together like lava in the pit. While all of the numbers are golden to stand out among the red design. You get eleven dice in this set (two d20s, one d12, two d10s, one d8, four d6s, one d4). The two d20s for advantage and disadvantage, while the d6s are the most common for rolling damage and other character traits beyond skill checks. We rolled these a few times just to get a feel for them and they seem pretty well balanced.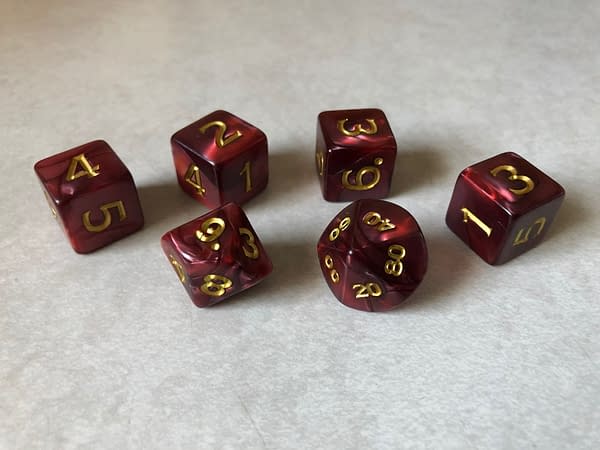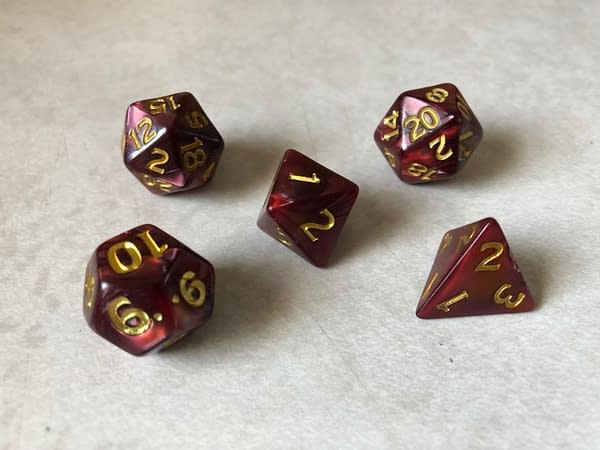 The box also comes with a few items to help you with your trip through Avernus. First, you get this poster with various creatures compared to an average human, so you know just how big and scary these things can be. It's an essential guide to the Blood War demons you'll encounter. On the other side, you get what is essentially a crude but accurate map of Avernus, the first of the nine levels of hell in the game. By far, probably the most hospitable if you can survive it without being killed or going mad.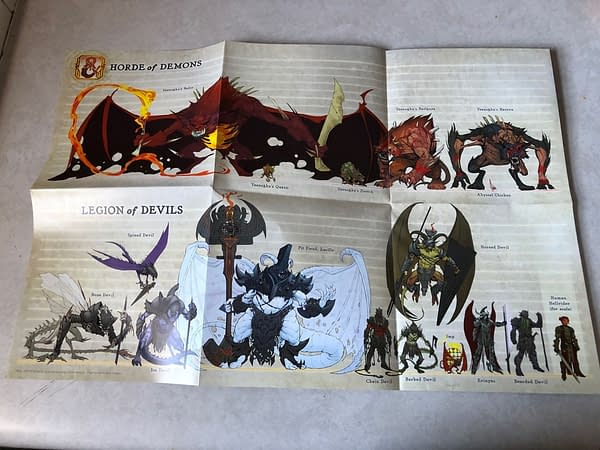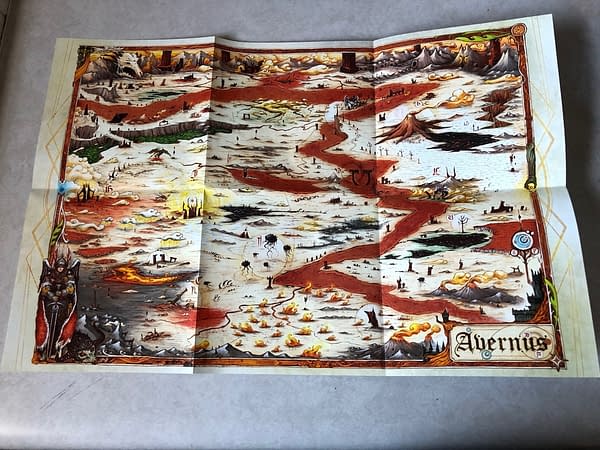 Next, you have something that will aid both the player and the DM as you have the alphabet and numbering system to Hell. More specifically, you have a way to write and understand Infernal, which is the written language of the underworld. Many a contract is written in these symbols, and this is just the ones you need to be able to read it like a commoner.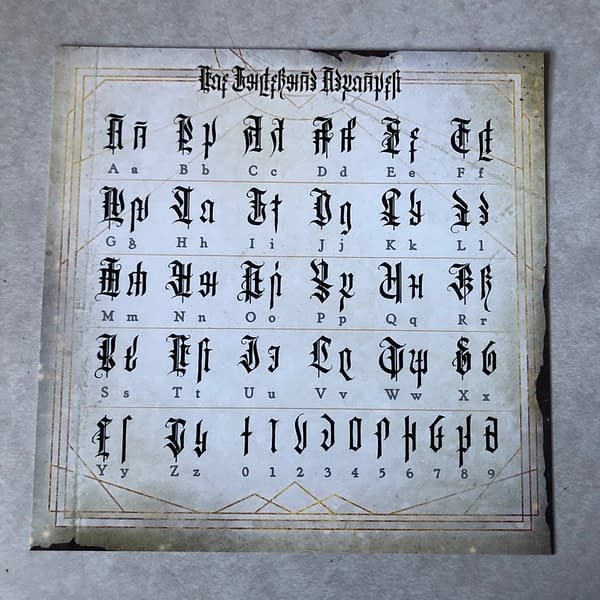 Also included in this set are 20 double-sided cards that contain Strange Encounters for DMs to use against the players and put them in some of the most twisted positions possible to try and get out of Avernus. On the other side, you'll find Trinkets One Finds In Avernus, as there are many objects that can either help or hinder your way through. There's also an amazing set of devils and demons of the Blood War cards which features the art of Max Dunbar and content written by the minds at D&D.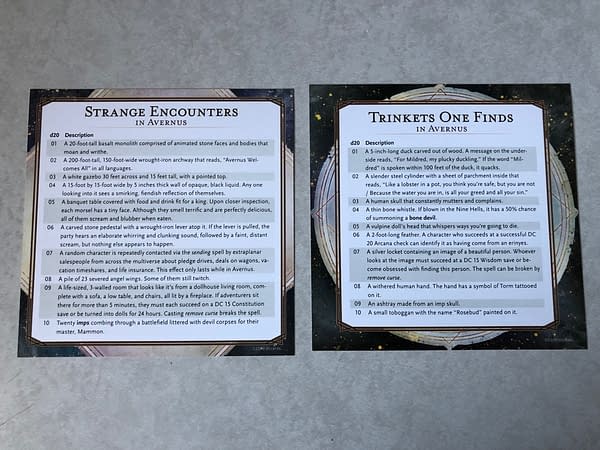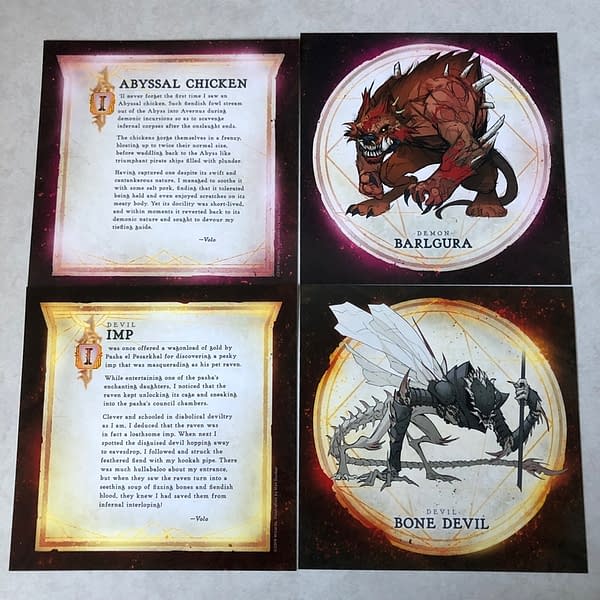 Overall, I was really impressed with this dice set. Dungeons & Dragons went out of their way to create something special this time around rather than just putting some dice in a tin. The only drawback I could possibly see for this in some players eyes is that half the content are focused on one specific adventure. But it's still awesome content to use for various games, and at the very least, you got some evil-looking dice to now play with at your next game. If you're looking for some official D&D dice that are just a little off the beaten path, this is a good set to check out.