Review: Jinx Overwatch Winter Gear
The people at Jinx just keep on rolling out the goods for the Overwatch brand when it comes to clothing and accessories, and we got a new set of winter goodies to review. We'll start with a couple of the regular gear basics, and the first item on the list is this Icon Buttondown Shirt. This is a nice short sleeve design in white with small Overwatch logos all over it in two-tone gray, made completely from 100% cotton. The design of this is just funny to us as you see a lot of shirts like this with weird little logos and imprints that mean nothing and you're not quite sure what to make of them. Here, you have come customized for gamers, and it plays off just right. I also enjoyed that I got a front pocket just in case I feel like throwing a handkerchief. Very well done, can't complain about the design, but the price is a little up there at $40.
Moving onto some socks, we got a pair of Blackwatch crew socks. These were amazing to see as they have the logo knitted into the side of the 8" leg, along with red heel and toe additions to the gray pattern. These are, by far, some of the comfiest gaming socks I've received in a while. Most companies create a pair that does the job alright, but they tend to be of thinner material. These are slightly thicker and give some amazing support and warmth in the cold months, and I couldn't be happier to have them. Plus, for a designer pair, relatively cheap at $10.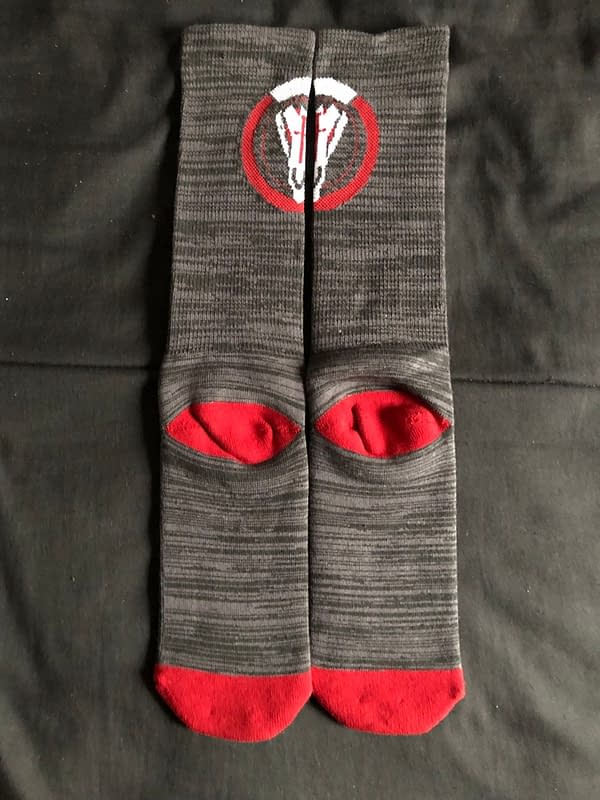 Moving into the real winter gear, we were sent six different Overwatch beanies from the company, and each of them has their own feeling beyond just design. We'll start with the Covert Pom Beanie, which gets its name for being just a black and gray design with the logo slightly tilted and hiding a bit behind the rim. Of all the beanies, this one was the thickest and warmest of the bunch, with a 100% acrylic knit construction. If you're looking for warmth int he dead of the cold, this is the one you need. Hands down. I found this to be an awesome relief for my head in recent bone-chilling days. This one will run you $20.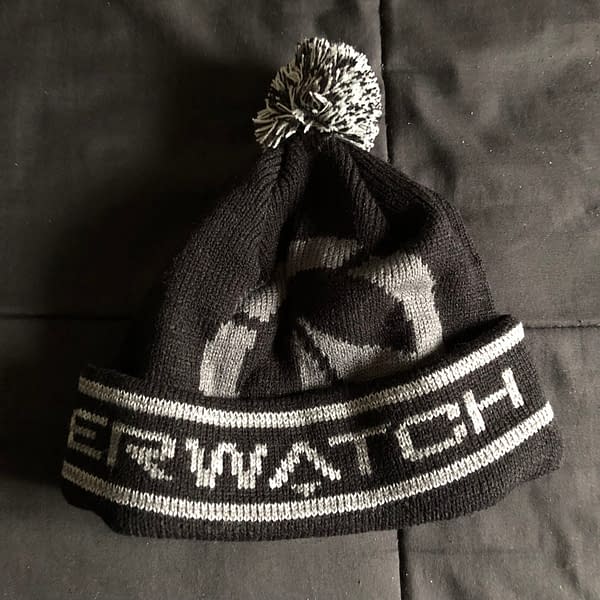 Next up is the Elite Pom Beanie, which doesn't hide the fact that it is an Overwatch beanie. You got a lighter gray with black and gold for the accents, the word Overwatch across the head and the logo front-and-center on the brim. This one is slightly thinner than the last one, but it doesn't take away from the feeling of warmth you'll receive. I should also note the materials on this one felt a little softer than the previous one. Still a good beanie, and at $20 it's still a respectable price for branded merch.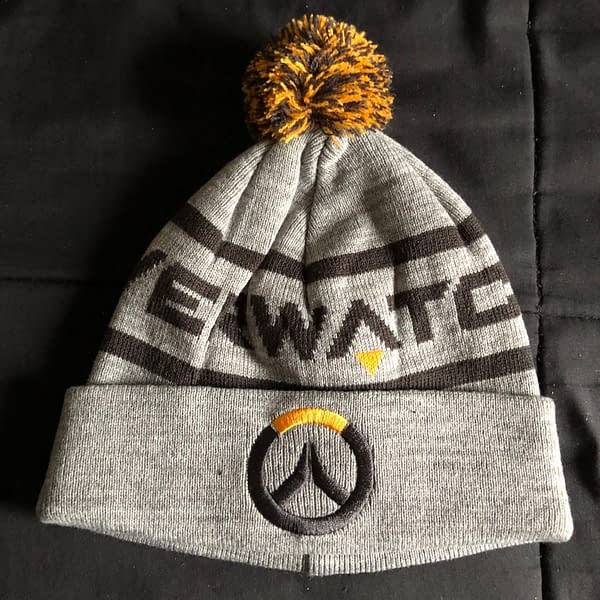 Next is the one that made me laugh the most as we have the Pachimari Pom beanie. Design-wise, not much to say here except it's meant to look like a pachimari from the game. (It's a happy onion with tentacles in their universe, in case you didn't know.) This one feels like it's the thinnest of the group. That could be from the material and the design they went with, but that's the case. This is basically one for cold but not super cold weather, or the kind you would buy for a kid where they're warm but not sweating in it. This too is $20.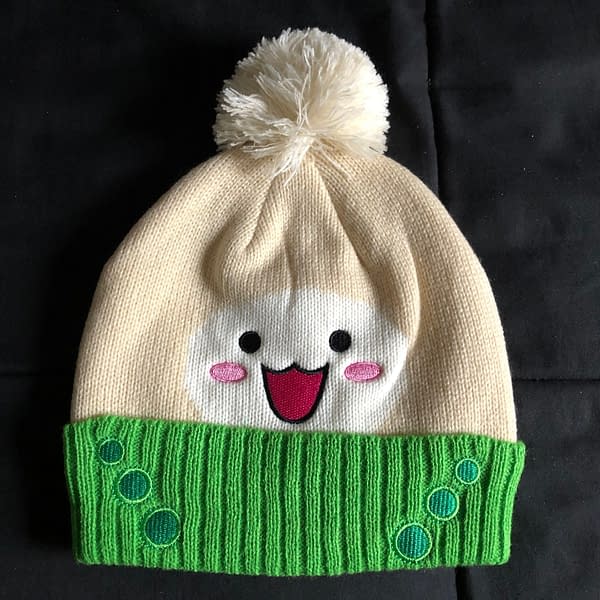 Getting to character-specific designs, this one is the D.va Pom Beanie. This design is pretty great as it reminds me of '00s designs I would see on skiers and snowboarders with the striped knit design. What really makes this one stand out is obviously the pink-and-white pom along with the bunny logo on the brim. If you're a D.Va player in a cold place, it's a must-own. This one, again, is $20.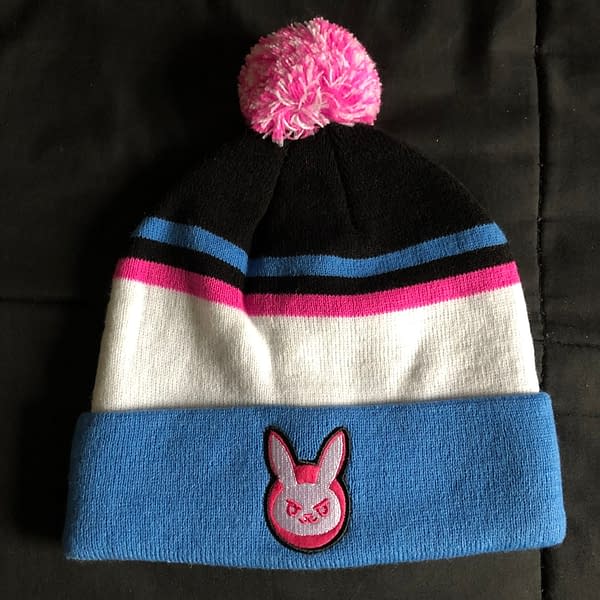 I hate to sound like a broken record, so we'll keep this one short as we have a Lucio Pom Beanie. Everything I just said about the D.Va version is the same for this one. The difference is that it's all about Lucio this time around with his frog logo on the brim and colors specific to him. WHile D.Va is great, this one with the black actually fits with more of my winter clothing, so it has a different kind of fondness for me. As with the rest, this is a $20 beanie.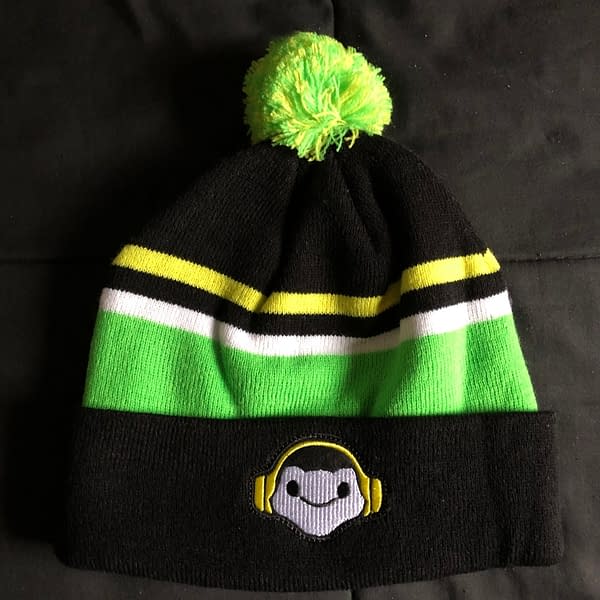 Finally, the last one we received is a special design as we have the Arctic Mei Laplander. If you're not totally familiar with this one, this is the special headgear for Mei's Arctic skin, from when she first wakes up and joins up with Overwatch again after being put into a hibernation sleep for nine years. This one, while warm, is more for cosplay purposes. Don't get me wrong, it's cool to have one of these with the braided laplanders going down to my chest. But it doesn't work like one would because the flap doesn't come down to protect from wind in a moment's notice, it's sewn in place. So one of the purposes of having one is kind of eliminated. That said, it's a cute design that serves its function, but it's probably better for costumes in cold months. Because of the way it's designed, this one is $25.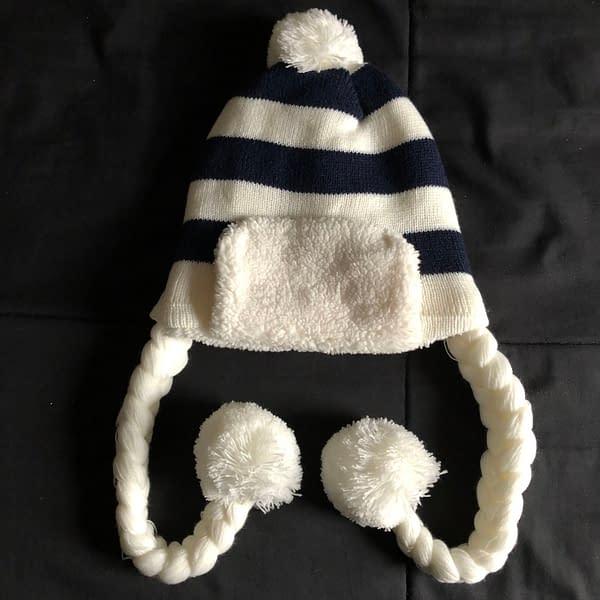 Overall, this set of winter gear is pretty awesome. Jinx did a nice job of creating some beanies that would appeal to different people and fit different kinds of clothing. It's one of the few times you'll hear me say I was especially happy with the socks. I'm sure there are people who will get huffy that their favorite Overwatch character didn't get a beanie, but I say give it time. I'm sure they'll make them all in the months to come as they have with the hats and hoodies. But for now, you got some pretty decent choices.