It's always a thrill to get a new game from Renegade Game Studios, and a while ago we were sent something that put a chill in out spine with Lucidity: Six Sided Nightmares. This is one of those small board games you pick up and you think it's just going to be some weirdly constructed thing that is made to look scary but we were actually surprised at what it had in store. We snagged a few friends and headed over tot he Watchtower Cafe in SLC to play a couple of rounds.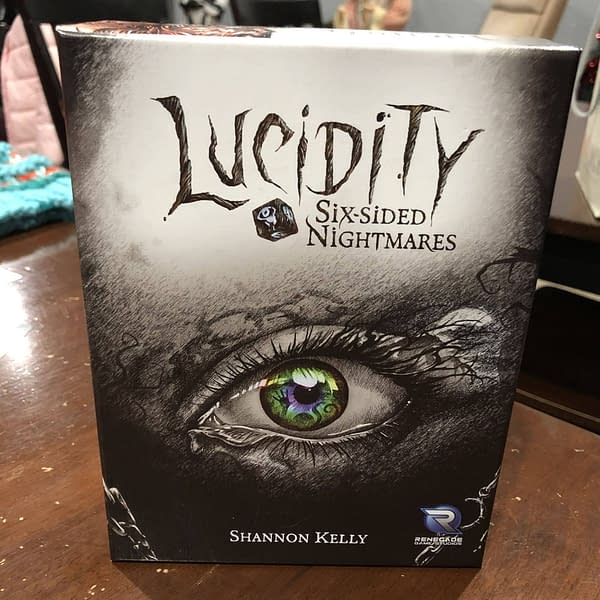 This is a two to four-player game that revolves around strategy and dice rolling. The four players take on different colors of red, green, blue, and yellow, all of which have different strengths and weaknesses. You are given a choice of which nightmare you'd like to play as before the game starts, as well as a card for you to use the dice on.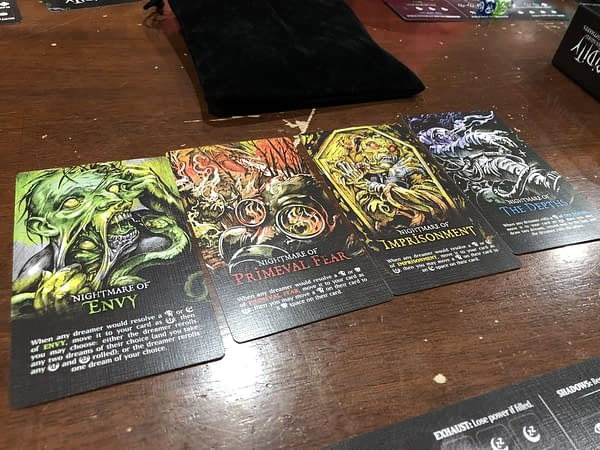 The dice are all of the matching colors in the game, all of them containing a one, a two, and a couple different symbols on the sides that come into play as the game goes along. The first player starts by shaking up the bag and reaching in to pull a certain amount of dice depending on how high of a risk they're willing to take. You take three turns during what is called your Sleep Track, (unless you're unable to) pulling an increasing number of dice out each turn. The numbers reflect power, the moons for exhaustion, the eyes represent different nightmares, and the hunt symbol for failure.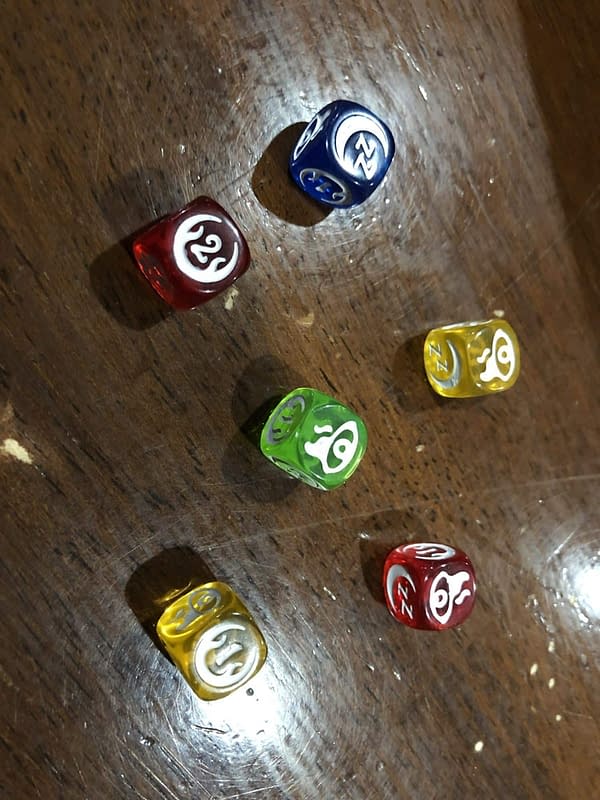 As you can see from the card below, you put the dice into their appropriate category depending on what you rolled. The goal of Lucidity is to gain 15 power and waking from the nightmare. If you get four Hunt tokens, you lose the waking phase and turn into the nightmare (which we'll discuss in a second). If you get three Exhaust dice, your turn ends until it comes back to you. If you roll a dice that has an eye, you place the eye on the appropriate color off to the side. Each of these has a power within them that you can use to your advantage or against your opponents.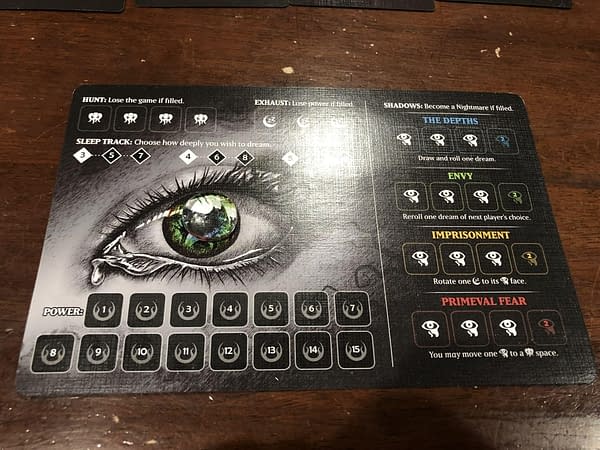 For example, the green Envy dice can force a player to reroll one dream dice of your choosing. Or the Depths can have you draw another die and have you roll it, but you're forced to take whatever it is. Throughout the game, you will end up seeing your card become stacked with dice. You can bank some of the decisions and choices you have to mess with each other or bail out and find a way to victory faster. However, if you end up with four Hunt dice, you fail and become the nightmare of the color you have chosen.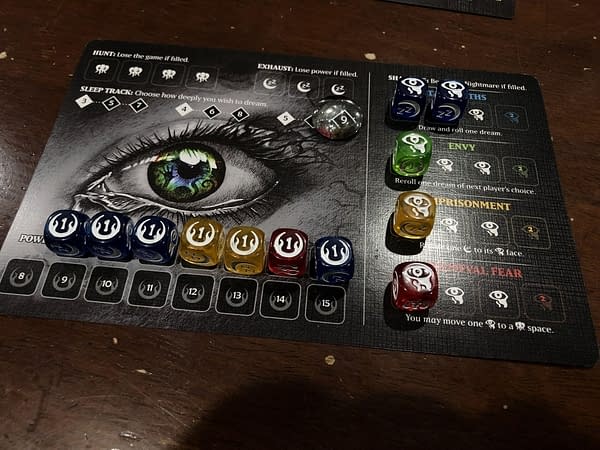 Now just because you've become a nightmare doesn't mean you've lost. You can now fight to make your opponents lose the game by using your card's special abilities against them. You're still vying for power dice, but you can only collect power numbers and are unable to use any of the benefits of the other dice moving forward. If you gain 15 power as a nightmare first, everyone else loses and turn into nightmares themselves. The true victory is waking from the nightmare, but that can become a tricky thing as it only happened in one game we played while every other victory was won by being a nightmare.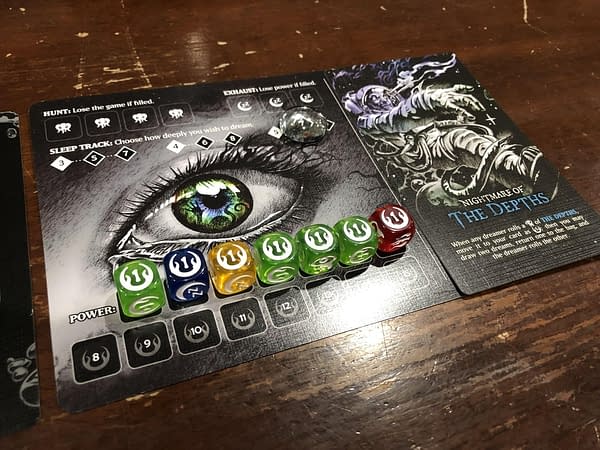 I enjoyed the hell out of Lucidity: Six Sided Nightmares. It's a quick game that does take a little work to understand the rules at first, but once you get them down you are free to swim through the nightmare fuel of the dice and claw your way to consciousness without being haunted. That is…. if you want that… I totally recommend it for a party game if you only have a few people around, and you can add some flair to what's happening by darkening the room and lighting some candles to make it all spooky.
Enjoyed this article? Share it!