Earlier this year, Sony and Nike came together to create a special line of Paul George sneakers featuring PlayStation branding, and they looked awesome! At the time we thought they may be a one-off production since there were a couple of different sneakers going around that were only being made once. Fortunately, the company made another set with a classic PS1 look with the PG 2.5 brand. (As well as a new blue pair that was announced this week.) So how do these shoes hold up and are they worth your buck? Nike sent us a pair to try out for a proper review.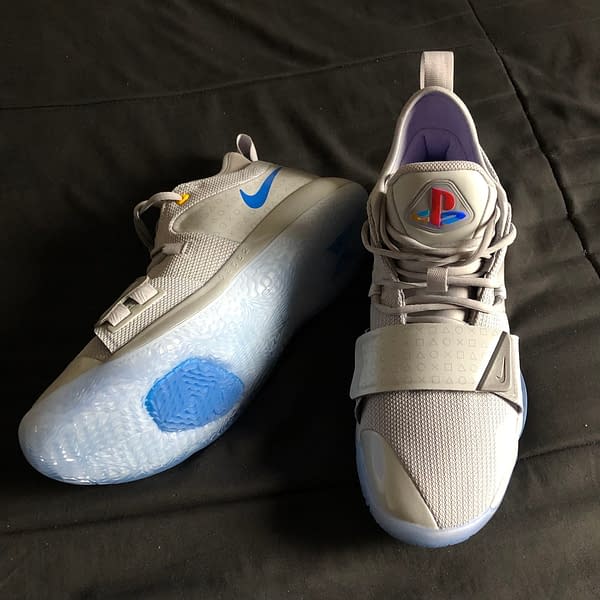 So we'll start with the design, which is about as PlayStation throwback as you can get. For non-PS1 owners, the color scheme is that of the original console from the mid-to-late '90s, with a bit of two-tone grey going on to show off different features of the shoe. I really dig the Nike swoosh logo on both sides of each shoe, as they are each a different color of the four symbols on the controller, while also having those symbols as a sort of watermark pattern behind them. There's also a touch of the color scheme in the top eyelets, which was kind of fun. To a casual observer they may be kind of flashy, but to people who know the branding, it's a nice nod to the console.
The insole is pretty tight with design work as well, as each shoe comes with a purple stary night kind of design, with one side having the PlayStation logo in red, and the other having the Paul George logo. The insole is surprisingly soft, softer than I usually see inside a Nike shoe. Whether that was on purpose or its just the kind of material they were working with to get the design in there, I'm not quite sure. But this definitely feels more like a lounging shoe as I walked around in them more than a sports shoe. Its a nice blend of neoprene and mesh that makes it stand out, too.
Along the back, we got your standard branding on the back strap to show off that you have a pair of Paul George shoes. The picture below is just the shoes side-by-side as they would normally look if you were walking around, which I found kind of off because most people's vision has us reading words left to right, so the untrained eye would see George Paul. Nothing to gripe about, they don't hinder the design, it's just an oddity that caught my eye. The straps themselves have enough room to where you could lift with two fingers, which is cool since most of the pairs I've owned usually fit one.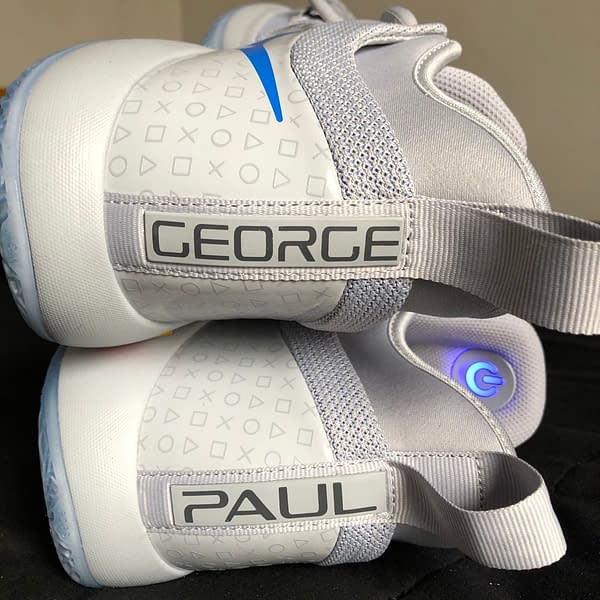 On the sole, you got some pretty awesome style choice as they went with a light clear blue design, with a defined logo on the heel and a zoom pad. After walking around in them for a bit, I can definately feel the pad when walking or running on concrete, but not so much on regular tile, carpet, wood floors, or linoleum. I can feel its there, but not so much until I find a hard surface with zero give. These are definately some of the most comfortable sneakers I've had in my life and it shows by the way they put this design together so that you felt active and comfy at the same time.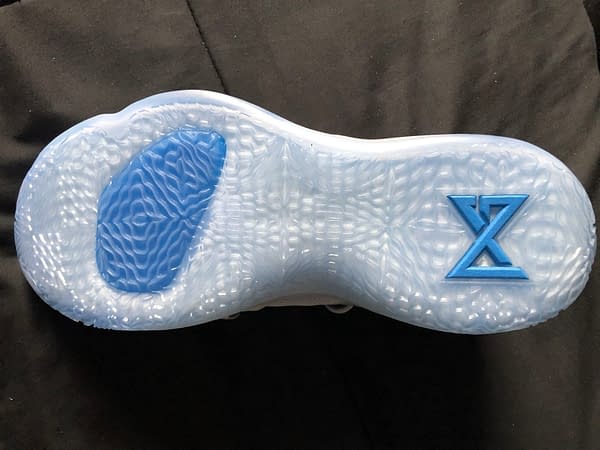 A feature I really got a kick out of was the LED lighting on the tongue. One side has the PG logo and the other has the PS logo. Both of them come with this power button indicator on the back which also lights up when you use it. It also has a fun feature where if you click it once after you power it on, it does the pulsating glow like how your PS4 lights up. So it's not constantly on, it's just fading in and out with a kind of rhythmic heartbeat. I found that to be absolutely awesome. Plus, these don't heat up or give off any kind of a warning that they might be a heat issue. The only problem I have is that there's no way to change out a battery down the road if they ever burn out.
The strangest part to these shoes is the velcro strap across the front. The laces are already thick and hold in place well, so if you tie your shoes like anyone else, there's no need for the strap. But even if you don't… this strap does nothing. Seriously. Nothing. I pull tight and it doesn't add any extra grip to the front. The purpose of the strap is to lock the foot in place so it doesn't slip too much when running, but I never encountered that issue even when I ran around and played a little basketball wearing them. For me, they felt more like decoration. If you have a shoe size where this actually comes into play, cool. But for me, this was just useless on the front.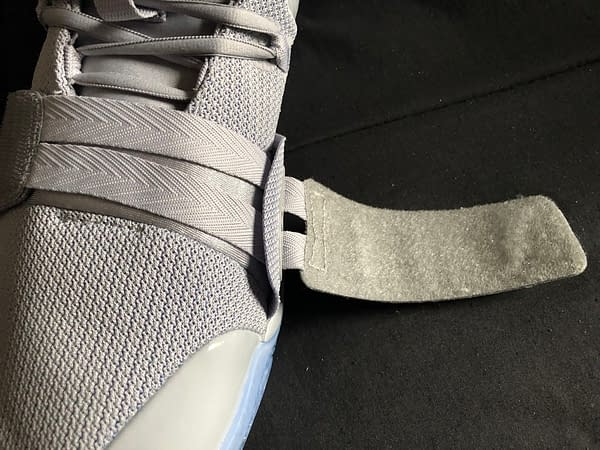 Overall, this is a damn fine pair of shoes. I tend to get picky with any Nike design over $75 because there comes a point where you have to decide whether you're buying them for the use and comfort or you're just buying them for the brand and the recognition. And don't get me wrong, I understand that side of the culture, I know a lot of people who buy Nike's and have them sitting on shelves doing nothing for years. But if you're going to sink that much money into a shoe, you should be getting something out of it more than prestige.
With the PG 2.5 PlayStation Classic Colorway, I'd say you're getting a little of both. There's enough here to appeal to athletes, gamers, and collectors alike. At $110, they are pricey, but not as pricey as some of the others on the Nike line, so I feel like you're getting a pretty good deal with these. But I would highly suggest that if you're a gamer and you're getting these, actually wear them and show them off and get some use out of them before you retire them to a shelf.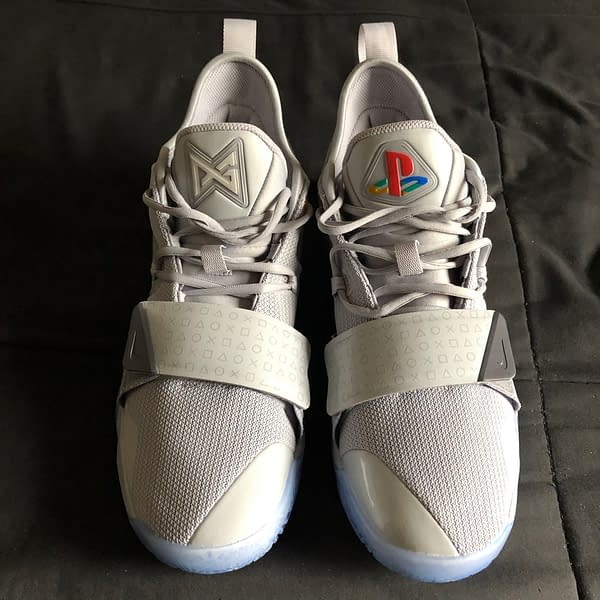 Enjoyed this article? Share it!