Review: Star Trek Mission Crate #3 — Voyager Edition
One of the best surprises we got recently was the arrival of the Star Trek Mission Crate from Loot Crate, this one being the third in the line. It's been kinda hard to nail down the frequency of this particular box, it seems to come by once every four months. Which is fine, it's one of the specific boxes where it's catered to a show, so it doesn't come out as often. This box was specifically themed for Star Trek: Voyager, as you can see on the lid. What did we get this time around?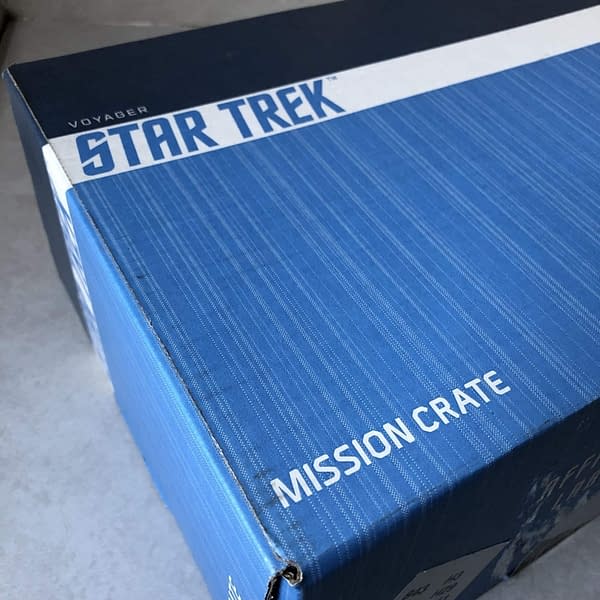 We'll start with the smaller items first, beginning with another code for Star Trek Online during the Age of Discovery event. We can't show the back of the card, but essentially it's a code to get some bonus content for the game and add to your collection of things for your profile. It's a nice little incentive in case you happen to be playing the game.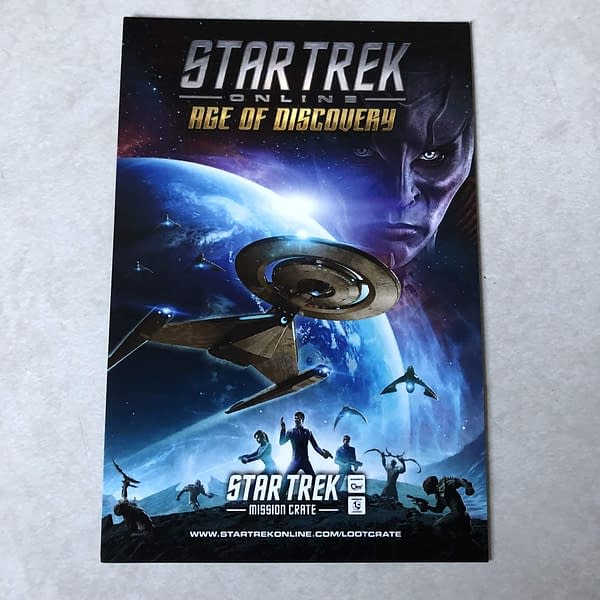 Next up, we got a sticker for the U.S.S. Voyager from Starfleet Command. I always find the branding the minds behind Star Trek choose for certain things to make it feel like a futuristic military operation, as this is the kind of thing that might be a patch on someone's uniform in the modern day. It's a nice little sticker but isn't what I would call super creative with just a small dot circling around the insignia.
Moving to the badge in this one, we have the final look of the badges used in both Voyager and DS9 with the bars behind the Starfleet insignia. Like previous Qm badges in other boxes, this is a magnetized one where you put the back behind the clothing and then a pretty strong magnet keeps the front attached to you. The only issue I have with this badge is that it's slightly smaller than the traditional version, which I actually have a replica of for cosplay and fan purposes. It's a couple centimeters, but its a noticeable difference, especially to hardcore fans. Beyond that, I love it.
Next is a bit of an oddity as we were given a Seven Of Nine beach towel. You get a silhouette of Jeri Ryan's character with the phrase "I'm often amused by human behavior" in the middle, along with some technical specs and an image of Voyager's saucer section. I kinda dig it, but the big issue with this is that it's not a very wide towel. I compared it to a couple other beach towels I have and it's actually a good three inches smaller than a standard beach towel wide and nearly a foot smaller tall. If you get to the basics of it, a beach towel when used at the beach is supposed to give you comfort on the sand. This barely gets the job done. I would say this is more for putting other stuff on than laying on it yourself.
We got another item from Qm in the form of a figure, this one of Seven Of Nine as well. Previous figures have been of Locutus of Borg and Commander Worf that looked pretty well done, but this one is a bit quirky. First off, while the previous two characters looked dead on to their real-life counterparts, the head of Seven Of Nine looks slightly bigger than it should be compared to the body. Keep in mind, this is supposed to be a true-to-form like model, not a caricature. They went out of their way to get her body right, including detailed work on the hands, but then made other parts bigger that didn't need to be like the communicator and her head. This is just… awkward looking, and needs a redesign to match previous versions of what they've created.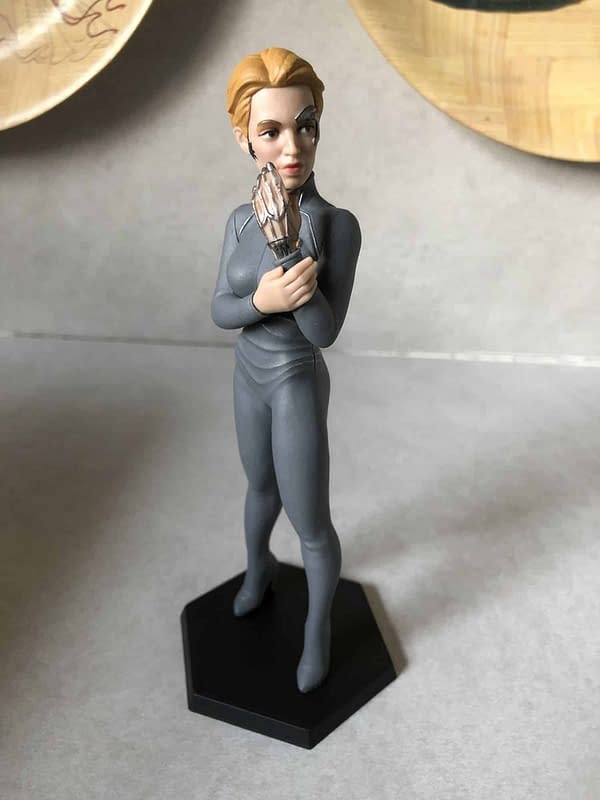 Finally, the make-or-break item of the box: the t-shirt. This box gave us one of the more inside-jokes of the series as we get The Adventures of Captain Proton. If you're not familiar, this is a fake 1950's action serial from their version of Earth, which Tom Paris uses in the Holodeck occasionally. It's also been the center of a couple of the later episodes, but we'll leave that topic alone. While it's kinda cool to have to show off to people, it's also something I could see people getting confused over. I showed this to a hardcore Trek fan with no preamble, and they had to take a minute to figure out what I was showing them. So cool, but siper niche.
Overall, this Mission Crate was just okay. It's not a knock against Voyager, it just feels like a number of things could have been better or were just totally wrong for this box. And because of that, it just feels okay. I look forward to seeing what they do with the next one, but if the pattern holds, the next box is going to be for Enterprise. So… we'll see how that pans out.