Rise Of The Slime Releases A Demo & Confirms Release Date
Playstack London revealed this week that their upcoming game Rise Of The Slime will be coming out a lot sooner than expected. The game will officially arrive on all three major consoles as well as PC on May 20th, giving you a chance to play as the most frequently seen dungeon creature of all time. What's more, the team is offering you a chance to try it out ahead of time. As we speak, there is a free demo of the game for you to try out available on both Nintendo Switch and PC. The demo includes approximately the first 30 minutes of gameplay, as well as some extra content that hasn't been seen yet in Early Access. You can also enjoy the latest trailer for the game down below.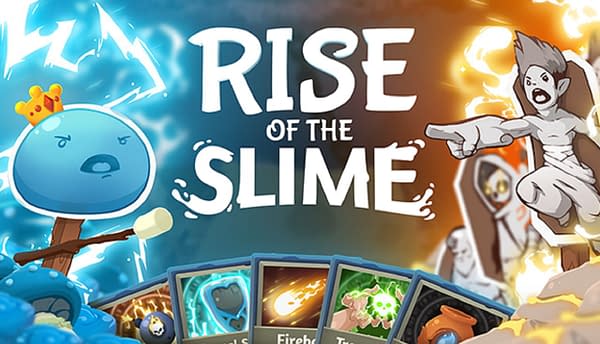 Rise of the Slime offers a unique mix of deep, tactical deck-builder gameplay with the chill vibes of a side-scrolling adventure. Help Slime overcome the odds by playing insanely powerful cards in turn-based, positional combat against a bunch of baddies—though you just might feel terrible dousing them with acid. With the help of fancy hats and pet companions to spice up your adventures, you'll traverse beautiful and exotic lands, from sizzling fire swamps to toxic marshlands to a breezy unfurling garden populated by sexy radishes! In Rise of the Slime, you'll experience:

Turn-based combat alongside real-time exploration, offering a unique mix of roguelike and deckbuilder.
Positional mechanics, matching your wits against enemies. Strategically quick step, push, and flip behind enemies to gain the advantage in combat. Use your cards wisely!
A visually appealing art style, with striking, colorful characters, cards and environments.
Extensive replay value with gameplay mutators, shifting routes and hundreds of deck build variations (100 magical cards at launch!). Each playthrough of Rise of the Slime is different!