Robocraft Infinity is Launching an Xbox One Open Beta this Weekend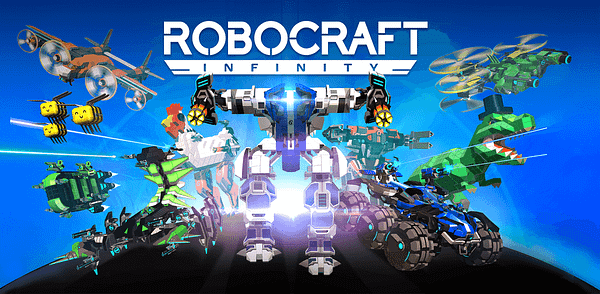 Developer Freejam has announced that their first large-scale open beta test for the Xbox One exclusive Robocraft Infinity for this weekend. The game's servers will open from Friday, March 16th at 12:00 UTC and run through Monday, March 19 at 12:00 UTC. While Robocraft Infinity is based on the Steam game Robocraft, there are some changes for the Xbox One edition, including dedicated servers and a different progression system for building and creating your robotic battle slaves.
To gain access to the Open Beta, Xbox users can sign up through the Xbox Insider Hub (which must be downloaded from the Microsoft Store). Once in the Insider Hub, you can find Robocraft Infinity under the 'Insider Content' label. Access to the beta will be first come, first served once the servers open on Friday, so be sure to grab your spot early.
The beta test features the complete editor toolset and two different 5 vs. 5 multiplayer game modes, Team Deathmatch and the capture point-based Battle Arena. Players can also upload and share their robotic creations with the entire community for free, via the Factory. So if you have the art skills to build a t-rex wearing a top hat, now is your time.
"We're aiming for 100,000 players to take part in the beta this weekend, so we can test our server infrastructure prior to launch," explained producer, Luis Dellinger. "This test is a big moment in Robocraft Infinity's development and we can't wait to jump onto servers ourselves and see what kind of crazy robots players will create!"
Robocraft Infinity is set to launch exclusively for Xbox One this Spring. Back in June, we attempted to figure out which version of Robocraft would be the best version, based on what we knew at the time. It came down to a simple problem of money versus time.
Those new to Robocraft will find the 'Getting Started' video released today pretty helpful in explaining the core game mechanics. The video is hosted by community manager NoddyDog, and you can check it out below.