Rooster Teeth Surprises Us With 'Battlesloths 2025: The Great Pizza Wars'
[rwp-review-recap id="0"]
Rooster Teeth. The people responsible for a better and more coherent story using Halo characters than 343 Studios could ever hope to produce. And that's coming from a Halo fan. A few years ago the company launched Rooster Teeth Games, a subsidiary much like Adult Swim Games where they produce original content for console and PC. Last year the company released two titles—RWBY: Grimm Eclipse (based off their series) and Super Rad Raygun, both of which received some decent reviews but not a lot of hype. Now the company is back with a partnership with Invisible Collective to bring you Battlesloths 2025: The Great Pizza Wars.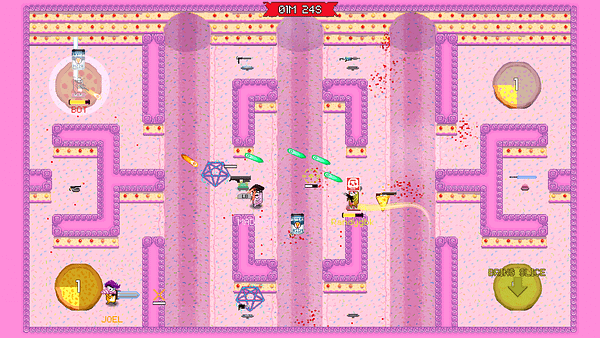 Battlesloths 2025 is a multiplayer competitive battle game that uses twin-stick shooter controls for four-player battles. The game is actually a sequel to one Invisible Collective made previous simply called Battlesloths, but this one ups the ante just a little bit. The game is pretty simplistic as most of the genre are. You pick your character from the menu where you can face up to four players/AI's locally or online and choose your head/face to find yourself on the screen. You'll then do battle against your opponents on any selected stage to shoot and slaughter everyone in your path.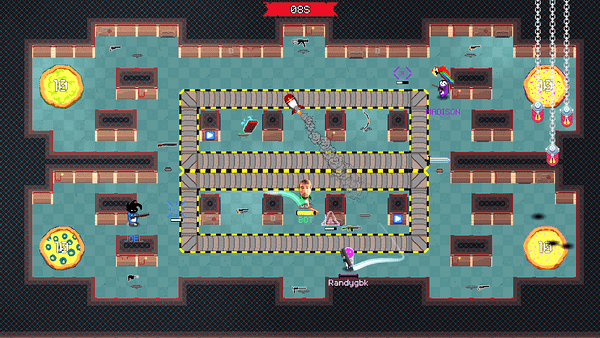 Each stage comes with a selection of weapon spawn points where you'll snag them as quickly as possible to get the drop on people. The weapons selection is pretty awesome, much like you would find in Duck Game, you have a wide array of missiles, rapid-fire guns, spread weapons, swords, weird liquids, lasers and more that you can take people out with. For the weapons, you'll aim with the right joystick and move around with the left, same as you would most shooters, except you're now doing it on a drop-down map. The other objective of the fights is to collect pizza slices and drag them back to your home spawn position, which sounds easy but becomes a lot more difficult than you'd think.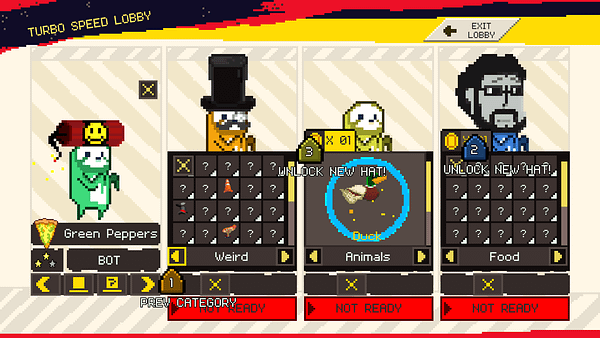 The controls in Battlesloths 2025 are pretty easy to grasp beyond the movement. The left trigger gives you a hover, the right trigger shoots, and the left bumper gives you an interaction and the right bumper gives you a dodge roll. There's a little bit of a learning curve when implementing everything and dealing with the dual stick at the same time, but it isn't the hardest challenge you'll ever face. More than likely your greatest challenge will be playing cheap shot players who wait for you and the others to duke it out so they can come in with the quick kill and the easy objective points.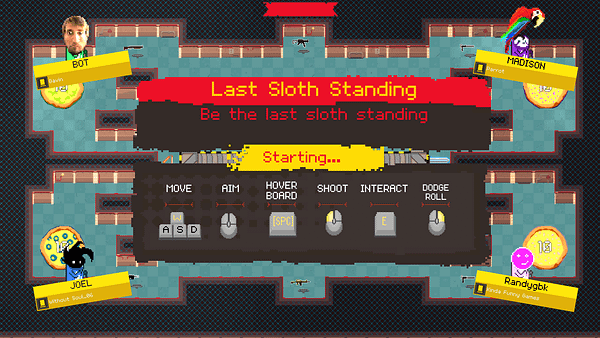 There are four different game modes. The first is Slice Hunt where when you kill an opponent they drop a slice of pizza, but running back to your base leaves yourself open to be shot so others can snag your slice and whatever you were carrying. The first to fill up their pie wins. The second is Gloden Slice, which is where you fight until a golden slice appears for you to carry back to your spawn in a first to four points scenario. The third is Sloth Hunt, which is essentially a free-for-all with the first to five points. And finally is Last Sloth Standing, which pretty much speaks for itself as you try ti be the last to survive. There are other game types you can get to by unconventional means, but we won't spoil any surprises.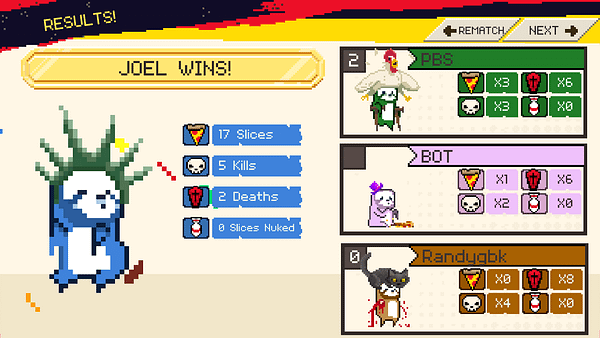 The graphics and the music aren't much to write about, it has an old-school feel to everything and it isn't designed poorly, but you can tell the gameplay was first on their mind and the look was secondary. That being said, the over 1,000 heads and faces that you can change into are awesome as they've included people from all of Rooster Teeth's properties including popular channels like Achievement Hunter and FunHaus. Now I can live out my dream and fight over pizza as Elyse Willems while beating Gavin Free, it's like Rooster Teeth fan faction in action! Overall, Battlesloths 2025 is basically stupid fun. There's nothing really to conquer beyond the achievements and unlocking all the heads in the game, so essentially it's just a battler for you and whoever may be online to have fun with. There's not a lot wrong with the game, it plays smoothly and does what it sets out to accomplish, I just wish there were more modes for multiplayer and more single-player options in case you run into times when no one is connecting. If you dig battle competition games, this is a good one to get.
[rwp-review-ratings id="0"]
[rwp-review-form id="0"]