[Update]
Yep, it's real! WB Games have now come out and announced the game officially. Scribblenauts Showdown. It seems the game is focused on not just classic Scribblenauts action, but also PvP elements. WB Games describe the new showdown mode as:
In the game's Showdown mode, up to four players face off and imagine their way to victory through card-based strategy and creative skill. "Wordy" mini-games require unleashing the best object or character from the vast Scribblenauts™ dictionary of over thirty thousand words to outsmart an opponent.
Here is the trailer for the game:
The game is indeed coming to PlayStation 4, Xbox One and Nintendo Switch on March 9th, 2018.
–
[Original Story]
Scribblenauts looks like it is about to return with a new entry on Xbox One, PlayStation 4 and Nintendo Switch.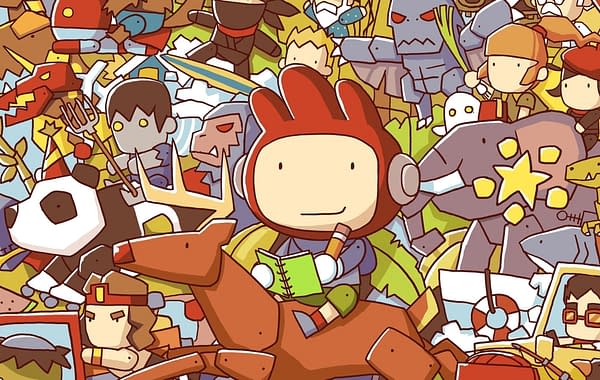 Scribblenauts has been on an unofficial hiatus for a little while it seems. Between 2009 and 2013, the series was putting out a new game every year, but since then it has remained pretty quiet. The initial burnout period seems like it might be just about over now though and about to bear new fruit.
There have been several rumours and leaks in recent weeks about a game called Scribblenauts Showdown, but we just got a pretty concrete hint that the game is real and about to be announced. As spotted by Gematsu, the ESRB has rated the game, and when they rate something, it is happening. More than that, a description of the game came with the listing too. It read:
Players engage in a variety of tasks and mini-games using a selection of words/actions/modifiers/characters. Mini-games include fishing, racing, and using drones to deliver items. Players can type in random nouns and adjectives to create different word combinations that trigger comical scenarios. Some games/tasks prompt players to use 'cartoony' weapons (e.g., bazookas, bombs, swords) to deplete the health meters of other characters.
Oh, and if you eat too much your character will throw up, so that is nice.
This all sounds pretty Scribblenaut-y, with nothing too obvious setting itself apart just yet. That being said, it's been a while since we've had a new one of these and I think a good portion of the audience might be up for more wordplay adventures after the break. I can see it working particularly well on the Nintendo Switch. A great little title to play on the move. Here's hoping it's good if all this does indeed happen, which seems incredibly likely at this point.
Enjoyed this article? Share it!