SCUF Gaming has officially announced that for the first time in two years, they're producing a fully customizable Xbox One controller. The full announcement came out this morning for what they're calling the SCUF Prestige along with images and a trailer of the controller, and this is looking super impressive as it is a modern SCUF look at the Xbox design as they partnered with Microsoft to make it happen. As usual with their controllers, it comes with an embedded lithium-ion battery, interchangeable faceplate, and integrated high-performance grip. We have some quotes from the announcement and more details below, as we're guessing we'll be seeing this beauty shown off at E3 2019.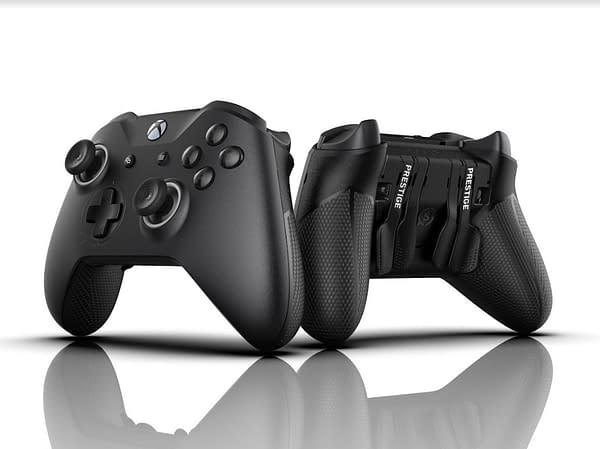 "We created the category for high-performance gaming controllers almost a decade ago, and our vision was for all controllers of the future to include back functions and trigger control mechanisms," said Duncan Ironmonger, Founder and CEO of Scuf Gaming. "Fast forward to where we are today, it is very humbling to see how large the professional gaming controller market and esports industry have become. With SCUF Prestige, we've not only built on our institutional knowledge, but have listened to the Xbox community and incorporated new features to deliver what we believe is the best Xbox controller experience to date."

In addition, each SCUF Prestige features:

● Powerful lithium-ion battery that provides up to 30 hours of playtime on a full charge
● Removable faceplate for effortless controller customization and thumbstick configuration
● Weight of just 262 grams, making it among the lightest high-performance controllers on the market
● High-grade, rubberized grip, delivering unprecedented non-slip comfort
● Mechanical hair trigger fine-tuning and redesigned quick-shift trigger stop system
● Bluetooth connectivity, ensuring wireless compatibility with both Xbox One, PC and Mobile

"In today's world of casual and competitive gaming, increased hand use is essential, whether it's in one- on-one battle royale combat, or taking the lead on the last lap in Forza," added Ironmonger.

https://cdn.video.playwire.com/1002214/videos/5481732/video-sd.mp4?hosting_id=1002214
Enjoyed this article? Share it!