SDCC 2018 is in two months, and the cities baseball team, the Padres, is celebrating now. Tomorrow, May 9th is Comic-Con Night at Petco Park! For those that have never been there before the stadium is right around the corner from the San Diego Convention Center where people attend SDCC every year. They also hold events around and inside the stadium every year as well (Sadly the team is out of town that week every year. Understandable but still disappointing).
This year for Comic-Con night, if you purchase a theme ticket package you will receive one of the hats with Super Friar and Kirby Dots behind him, with the padres logo on the front panels. The side as a sweet SDCC patch on the side. This is limited to only 1,000.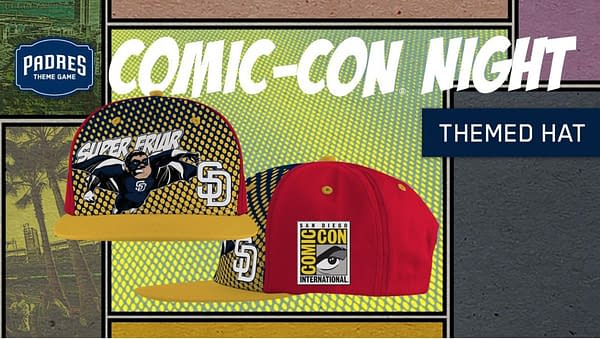 Super Friar is taking over Petco Park on Comic-Con Day! Your theme game ticket includes a Comic-Con® Night hat and ticket to the Nationals vs. Padres game. Enjoy the game in your costume, pre-game costume contest in Park at the Park, photos with characters and themed in-game entertainment.

Only the first 1,000 fans who purchase the dedicated Comic-Con® Night ticket package for May 9 will receive a hat.

Note: Giveaway is included in Theme game package only. Must purchase ticket package from dedicated offer link. Available on a first-come, first-served basis. Subject to availability. This is not an all-fan giveaway and the giveaway will only be provided to those who purchase the Theme Game ticket package. Those who purchase the package will receive more information via email on how to redeem item two days before the game.
The Padres have played some ok ball so far this year, although you wouldn't really know it from their record. They a re more competitive than one would have expected when the season started though. In town for this game are the Washington nationals, one of the National Leagues best teams. They have one of the top players in the game, Bryce Harper, on their squad, so if nothing else swing into the ballpark for all the Comic-Con celebrations and to see one of baseballs best do his thing.
Tickets can be purchased here.
Enjoyed this article? Share it!