"Sea Of Thieves" Gets A Free October Update With "Fort Of The Damned"
Microsoft and rare released a new content update to Sea Of Thieves this week, adding their own Halloween content with Fort Of The Damned. The update is totally free, all you have to do is go into the game and let the program do its thing. The crux of the update is for you to seek out one of the biggest skeleton forts you'll ever encounter in the game and find a guaranteed Chest Of Legends. You can read more about some of the additions with the update below.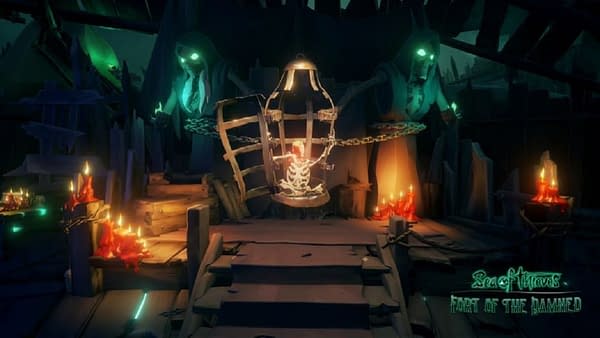 Skeleton Pets in the Pirate Emporium

The Pirate Emporium is stocking new items for the spooky season including some supernatural additions to the pet range: the Skeleton Cockatoo and Skeleton Marmoset. But hurry, skeleton pets will only be available for the duration of the Fort of the Damned update and will return to the mists once the November update is released. Grab them before they go!

While you're at the Pirate Emporium, you'll also find the Cutthroat Ship Collection inspired by Killer Instinct, Rare's legendary fighting game, together with a new collection of emotes including the indispensable Taunt Emote bundle.

Two's Company in The Arena

Galleons no longer have the run of The Arena: pirates now have the opportunity to compete as part of a two-person Sloop crew. So grab a friend and set a course for The Arena to take on other duo crews and determine who's best!

That's not the only Arena update this month, as six new contest locations have been added. Each location has two variations, and also feature chests on Outposts for players to find and safely transport to ever more challenging Sea Dog delivery locations.

New Ways to Play Shanties

You asked, we listened: a new instrument is now yours for the playing as banjos make their way into Sea of Thieves! Open the second page of your item radial to find the banjo and pluck along to all your favourite shanties. Equipment Stores at Outposts now stock a range of fancy-looking banjos for you to grab in exchange for gold.