"Sea Of Thieves" Sets Sail For "The Festival Of Giving"
Pretty much every video game you currently know is doing a holiday event, and that includes Sea Of Thieves, with The Festival Of Giving. From now until December 24th, you'll be able to set sail into special Gift-Seeker Voyages that offer plenty of rewards. You can speak to Stitcher Jim in any tavern to get started and earn valuable Doubloons for each lost gift you deliver safely to the Masked Stranger at The Reaper's Hideout. Not to mention a chance to pick up some specific cosmetics for you and the ship. Here's a little more detail of what's happening for this event.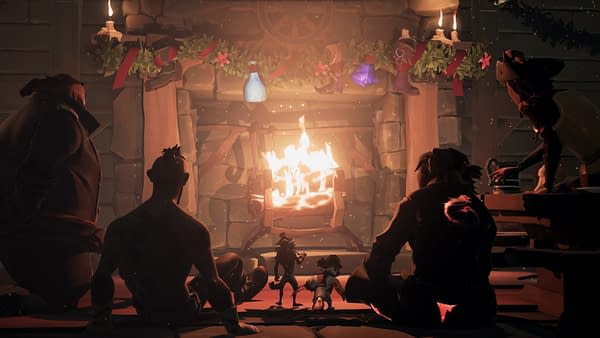 For players who find Sea of Thieves in their stockings this year, the Festival of Giving brings with it the Maiden Voyage, a new introductory adventure that's a must-play for every pirate. For those new to the game or in need of a refresher, it's an ideal first experience and a 'safe' place to hone your skills. For more seasoned pirates, it's a chance to check out an unexplored island hidden beyond the Devil's Shroud, meet the Pirate Lord and unlock new Commendations and exclusive cosmetics.

If you're interested in the latest seasonal fashion and wares, visit the Pirate Emporium to stock up on a time-limited set of festive-themed weapons and pet outfits or take advantage of the Emporium's first ever sale! What's more, selected Ancient Coin bundles have been boosted by 10%, giving you even more coin to treat yourself to a special Christmas gift. Additionally, players have the chance to give back and donate to charity by purchasing a unique SpecialEffect ship cosmetic.