Skyrim Fans Pushing for "Skyrim Grandma" to Become an NPC
The fans of Skyrim are making a genuine online effort to make one specific player an NPC in The Elder Scrolls VI. Shirley Curry is one of the more oddball YouTube celebrities you'll find in the mix that doesn't fit the mold, as she's become known as the Skyrim Grandma. An 82-years-young woman with a channel that has over 400K subscribers, playing Skyrim, and doing a far better job of it than some gamers you see playing the game today. When The Elder Scrolls VI was announced, she went online to another streamer's video and said in the comments "Well, I guess that puts the nail in my coffin, literally!!! When Skyrim 6 comes out I'll be 88!! So I probably won't get to play it, so I'm going to [quit] dreaming for it!!! :("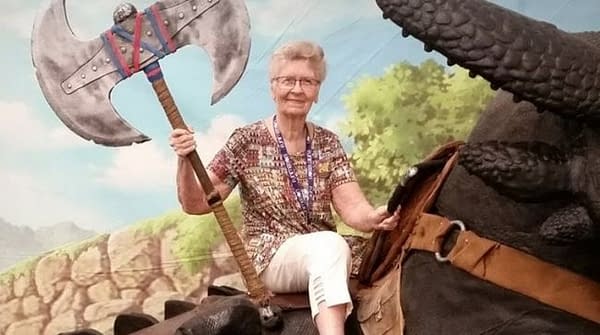 That sparked a response online that immediately formed a petition to have Curry added to Elder Scrolls VI as an NPC character. We hope that she's able to see the game when it comes out, but if that isn't to be, it would be awesome to see a fan as dedicated as her added into the new universe. If you'd like to help her out and get Bethesda Softworks' attention, sign up!