Sonic Mania Plus Announced at SXSW with Physical Edition and New Characters
Some awesome news dropped today at SXSW during the Sonic The Hedgehog panel as Sega heads revealed there will be a new game released this summer called Sonic Mania Plus. Just to get the necessary bits out of the way, yes, this is the original Sonic Mania that was released last year but with a bunch of new content added in what will be a physical release for PS4, Nintendo Switch, and Xbox One. The game will be adding two new characters in the form of Mighty the Armadillo and Ray the Flying Squirrel, as well as a four-player Competitive Mode and something called "Encore Mode" that wasn't defined during the Gotta Go Fast: The Official Sonic the Hedgehog Panel.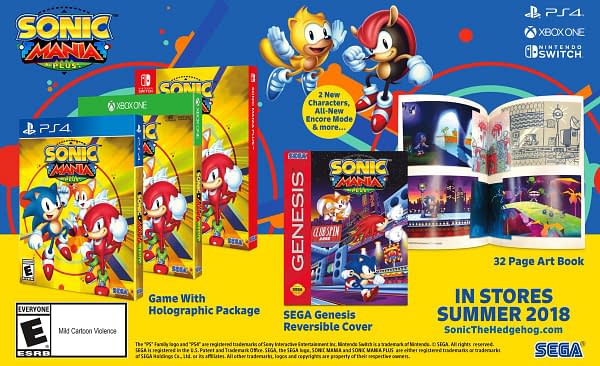 Two of the cool things about the physical edition is that you'll be getting a 32-page booklet that comes complete with instructions, artwork, and other lovely tidbits for fans of the series, while the cover of the box has a reversible sleeve to make it look like an old Mega-Drive/Genesis cartridge case. Pre-orders for the game will start on March 20th for the decent price of $30, but no official release date was attached to it beyond "Summer 2018". Hopefully, we'll get a taste of the game at Sega's E3 booth this year.