Square Enix and People Can Fly took a moment today to go more in-depth about the campaign structure for their upcoming title Outriders. If you haven't checked the game out yet, it basically has a lot of dark sci-fi going for it as you're on a planet that's basically become a hell-hole for what's left of humanity. The campaign will take you on an epic journey across Enoch, which is the savage world you landed on seeking refuge after Earth burned itself out. Everything here has mysteriously hyper-evolved to wipe humanity from the face of the planet just moments after we arrived. There are secrets galore coming from the people within the human colony that has changed since you first landed, along with the mysterious jungles and unforgiving deserts. You'll have to explore the far reaches of the frontiers, gain incredible powers, and make discoveries that will hopefully lead you into a better path. You can see the full video presentation below along with a couple of quotes from today's announcements.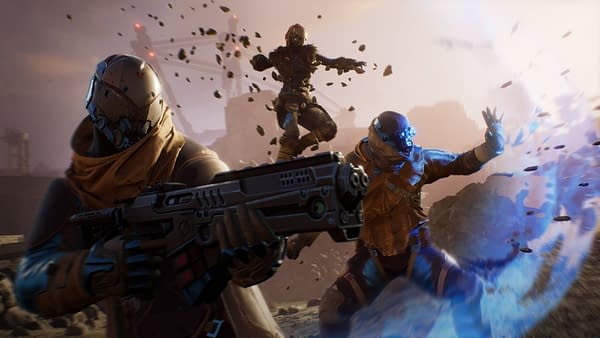 "As a composer it's always extremely exciting to be involved in building new worlds and telling new stories, so I'm thrilled to reveal that I have composed the score for People Can Fly and Square Enix's epic sci-fi action game Outriders. It was a lot of fun blending heavy orchestral soundscapes and futuristic musical sound design for this rollercoaster sci-fi adventure and I can't wait to share the music with you." said Inon Zur.

"We were really excited to have Inon on board to do the soundtrack for the game. He's a legend in the industry and the team were big fans of his work already," said Bartek Kmita, Creative Director of Outridersat People Can Fly. "He worked closely with us to develop a sound that fit with the story and world that we're creating, and he composed truly dynamic and powerful tracks for us that added so much depth to the tone and feel of the game."
Enjoyed this article? Share it!