Strategy Role Playing Game Master of Eternity has Launched on iOS and Android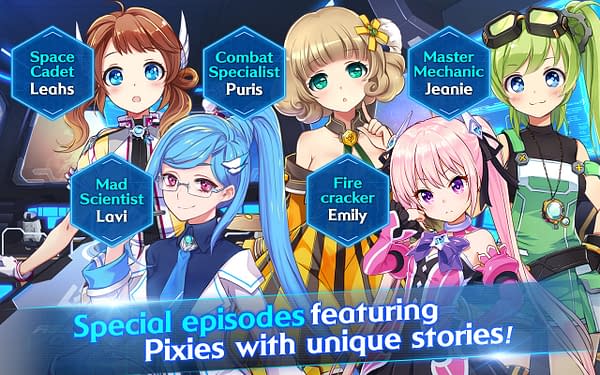 Nexon Korea's strategy RPG Master of Eternity has officially launched on iOS and Android worldwide. MoE is a strategy RPG hybrid that features turn-based mecha battles between anime-styled pixie characters which players use to explore, battle, and raid.
Master of Eternity explores a universe plagued by a galactic war fought between bands of eccentric Pixies, who you can see above. The game's features include:
Addictive Turn-based Combat – M.O.E.'s strategic elements, unique Pixies and mechas, and an innovative battle system combine for addictive gameplay that keeps players coming back for more;
Engaging Narrative – The game's immersive story and distinctive Pixie personalities offer several epic storylines that converge for hours of addictive content;
Character Customization – Players can make Pixies stand out by collecting various costumes. Players can also fully customize Pixies' Crew Room;
Strategic Gameplay – Develop distinctive tactics by mixing Pixies, mechas, and equipment to formulate winning strategy to defeat formidable adversaries;
Classic Game Modes – Players can explore multiple game modes, including scenario-based missions, temple exploration, Alliance simulations and intense PvP battles with players from around the world.
Exclusive Launch Events – M.O.E.'s global launch includes several exclusive events and opportunities for players to receive valuable rewards and prizes, such as:

500 Gems + 5 AP Recovery Tickets for sharing the Official Promotion Video
100,000~300,000 Credit, Asgard Enhancement Tickets 5 for pre-ordering the game.
Honestly, it seems like one of many strategy RPG hybrids on the market, but I guess this one has mech suits, so at least that's a difference?