Sumo Digital's Ben Wilson on Making Team Sonic Racing a Cooperative Kart Racer
Ben Wilson is a Designer at Sumo Digital, the game development studio behind Sega's upcoming kart racer Team Sonic Racing. We got a chance to meet up with Wilson at a demo event for the game and chat about the difficulties of developing a team kart racer that's actually cooperative.
That was one of the initial troubles Sumo Digital had with the game, as they needed to solve the problem of "what is team racing?" The solution to that problem was eventually solved after the team created a "wide list of things" they wanted to see in the game, which was narrowed down to the team mechanics we see in the finished game with skim boosts and slingshots.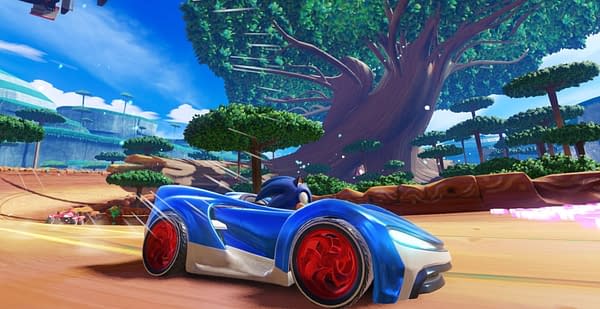 Some ideas were dropped, because Sumo "wanted to hit that balance between being familiar and new without overwhelming people." In initial builds, the game had some abilities that players didn't know how to use, and they were stripped out of the game. So, as Wilson enthused, there are "no spreadsheets" required for playing Team Sonic Racing.
That said, there have been things that surprised the dev team as they've watched playtesters work through the game. "Some [teams] used voice chat to plan ultimates" in order to avoid pesky mechanics like lightning strikes, while others had their technique players offer skim boosts to speed and power players stuck on slow terrain. Because technique racers avoid the slow effects of running over grass, they could race by and boost their stuck teammates.
The only difficulty Wilson and his team ran into with SEGA when developing Team Sonic Racing was the online multiplayer character selection. The team at Sumo wanted it to be so that, when you played online, you could choose whatever character you wanted from any team you wanted, so "you could have a race with twelve Sonics." However, when they explained their reasoning, SEGA was quick to get on board.
Team Sonic Racing is set to release on May 21, 2019.