Team Vitality Announces Women's League Of Legends Team
Team Vitality has launched the French Bees, the first all-women's League Of Legends team for the esports organization.
---
Team Vitality revealed that they have formed an all-women's League Of Legends esports team as they introduced the world to the French Bees. Working in collaboration with ALDI, they have formed an academy squad that will be a fully functional team as part of Team Vitality's six leading rosters, working with a dedicated support staff at their facilities in Stade de France, aiming to compete in local competitions in 2023. The first one on the list being the MasterCard Nexus Tour (formerly Open Tour France). We have more info on the team below.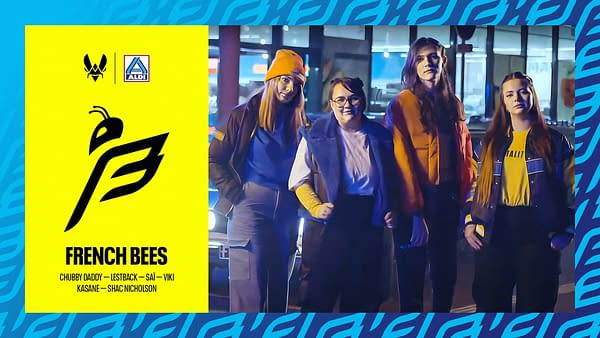 "The French Bees' goal will be to compete in several key French competitions in 2023, starting with the MasterCard Nexus Tour (formerly Open Tour France). They will also have the ambition to play for the title in the Women's League. Finally, the team will also participate in French LANs (physical tournaments) throughout the year. Thanks to the commitment of Team Vitality's partner ALDI, the organization will put its expertise and strengths at the service of the French Bees team to enable them to reach the highest competitive level in the French women's League of Legends scene. The academy team will benefit from access to Team Vitality premium resources provided throughout the year, including V.Hive and V.Performance (Stade de France). The team will be integrated into a professional environment and will be offered tailor-made management. Coached by Shac Nicholson and benefiting from the expertise of Team Vitality staff, The French Bees will include:"
Coline "Chubby Daddy" Reiter, Strasbourg (France), 24 years old, Top Laner. Peak elo: Diamond 1 76 lp
Lexa "Lexa" Grellier, Rennes (France), 21 years old, Jungler. Peak elo: Master 56 lp
Alyssa "saï" Lenoir, Pérenchies (France), 18 years old, Midlaner. Peak elo: Diamond 2 62 lp
Emeline "Kasane" Baudouin, Tour (France), 24 years old, Support. Peak elo : Master 282 lp
Velouria "Viki" Baty, Paris (France), 25 years old, ADC and Captain. Peak elo : Master 235 lp