Tera Online has Dropped Some New Twitch Prime Loot
En Masse Entertainment has dropped a new set of Twitch Prime loot for Tera Online players on PC and consoles. This is the third Twitch Prime pack in a four-month long promotion and it's just dropped for players today. This loot box will be available for pickup from May 24th through June 25th and comes with a load of goodies for all players of the MMO.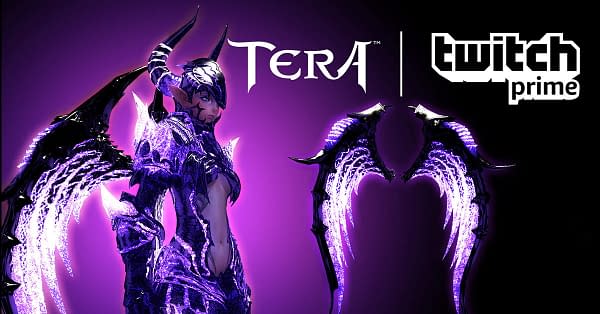 The third Tera Twitch Prime loot pack is available from Friday, May 24 through Tuesday, June 25 and contains the following:
Twitch-exclusive Ultra-Violent Dragon Wings
Twitch-exclusive Violette mini-dragon pet
Seven days of elite status for TERA
Strongbox Key ×10
All Tera players have to do is link their Twitch Prime account to their En Masse account in order to receive the in-game items. If you've already done so, all you need to do is log into Twitch Prime and claim your En Masse: Action RPG pack on the Prime Loot page.
In other Tera Online news, the game is celebrating it's 7th anniversary and recently received the Skywatch: Companions update for PC. Skywatch: Companions adds a new companion system and a challenging new dungeon for PC players to test themselves against. The 7th anniversary celebration is still going on with more prizes and events for the rest of the month.