The Altered Carbon Role Playing Game Now Up For Pre-Order
The Altered Carbon Role Playing Game, a new RPG by Renegade Game Studios, is now up for preorder on Renegade's website! We here at Bleeding Cool covered this RPG's Kickstarter campaign back in early February, and now it's finally coming to fruition. Hunters Entertainment and Skydance Television teamed up with Renegade to get this game off the ground, and thanks to many benefactors (3,940 of them, to be exact!), the game was fully funded.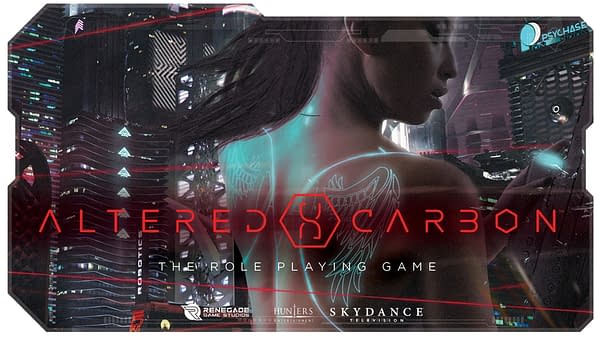 Altered Carbon is slated for an official release in September of this year, according to Renegade Game Studios' preorder page on the matter of the role-playing game. In this game, you can "wear anybody you can afford, transmit your mind across the cosmos in an instant, and, if you've got the credits and political cachet, you can re-sleeve time and again for centuries, accumulating enough wealth and power over the millennia to become the societal equivalent of an immortal god." The core book will cost players $50.00 apiece and include:
Rules to Play Archetypes ranging from Socialites to Soldiers
Explore the expansive metropolis Bay City in both its Underground, and Atrium world.
Storytelling focused rules, that help create immense danger inside of combat and intrigue outside combat.
The means in which to transfer your character's digital consciousness into a new sleeve should they come to a tragic end.
In addition to being able to preorder the core books for this game, game masters will be able to purchase a GM screen within which to plot their machinations.

Are you looking forward to playing the Altered Carbon Role Playing Game? Does this transhumanist setting look like a good time for you? Let us know what you think of it in the comments!