Third Editions Launches a Kickstarter for a New Wave of Zelda, Dark Souls, and Final Fantasy Books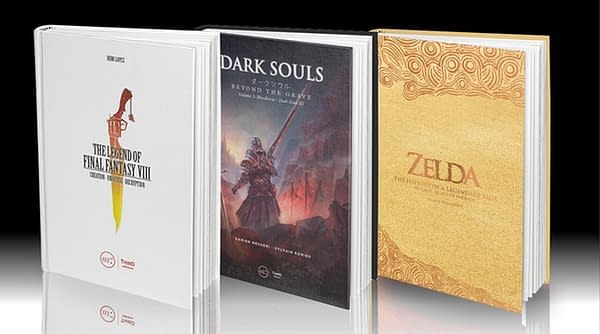 Third Editions recently released the English translation of their Bioshock book, Bioshock: From Rapture to Columbia, and have announced a new Kickstarter campaign to fund their second round of Zelda, Dark Souls, and Final Fantasy books. This second round comes with the sequels to their Zelda and Dark Souls books as well as a follow up to their Final Fantasy VII book, this time focusing on Final Fantasy VIII.
Zelda: The History of a Legendary Saga (Volume 2: Breath of the Wild)

The second volume of Third Editions' Legend of Zelda series focuses on 2017's open-world masterpiece Breath of the Wild, examining its incredible game design, world building and tightly woven lore.

Dark Souls: Beyond The Grave (Volume 2: Bloodborne and Dark Souls III)

Beyond the Grave – Volume 2 picks up from where the first book left off, exploring the plague-ravaged streets of Bloodborne, a game palpably crawling with unease, and FromSoftware's Souls series climax, the critical and commercial titan of Dark Souls III.

The Legend of Final Fantasy VIII

A comprehensive analysis of one of the popular role-playing series' most fondly remembered entries, in the same detailed vein as Third Editions' Final Fantasy VII book.
The campaign aims to raise $74,000 in order to fund the English translation of these titles. At the time of writing, they've raised $33,393.00 USD of their goal. You can check out their Kickstarter pitch below, or back the campaign
here
.