If you're a fan of Homestar Runner, then you'll be very interested to learn about Brothers Chaps and James Ernest's latest project, Trogdor!! The Board Game. The group decided to put their latest game up on Kickstarter, which was inspired by a 15-year-old video about drawing dragons, to create this pretty cool and unique take on a dragon going through and terrorizing a village. The game originally asked for $75k in funding, but as of when we wrote this they have received over $700k, successfully funding the project and then some.
We'll keep an eye out to see when it gets released, but for now, you can read the game description and see the video it was based on below. And if you'd like to donate more money, you can go to the Kickstarter here.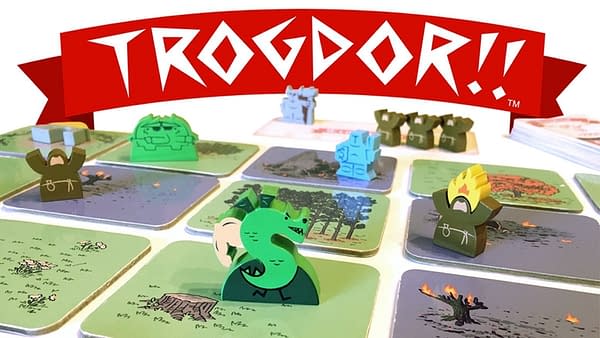 From the Brothers Chaps and James Ernest comes Trogdor!! the Board Game. For centuries, the legendary wingaling dragon Trogdor the Burninator has terrorized the peasant kingdom of Peasantry with his scorching flames and greased-up beefy arm. Now, he has descended from the mountains once again and will not stop until he burninates the entire countryside and all those unfortunate enough to get in his way! You and up to 5 friends -or maybe people you just paid to come over- take on the roles of a cult of hooded creepos calling themselves the Keepers of Trogdor who have devoted their lives to aiding the mighty dragon in his quest for total and complete burnination. Take turns guiding Trogdor on his destructive lost weekend around Peasantry. Help him avoid pesky knights and archers, devour peasants, burninate the countryside, and, of course, the thatched roof COTTAGES!!
Enjoyed this article? Share it!