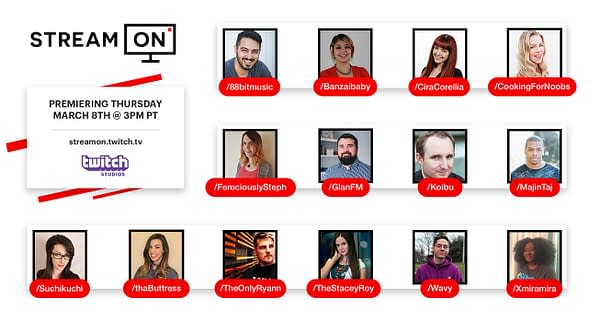 Twitch Studios has announced the premiere date for their streaming game show Stream On. Stream On is a live interactive game show that lets viewers discover and influence the future of up-and-coming streamers by participating directly in the program. So it's something like an American Idol for streaming.
The show will premiere March 8th at 3 p.m. PST on Twitch.tv/Twitch and will feature 14 participants who will compete in Twitch-themed challenges to avoid elimination from the show over an 11-week period. The contestant most able to entertain and engage a community will emerge victorious, and be awarded a grand prize of $5,000 USD per month for a year, for a total of $60,000 USD.
During the Stream On challenge, the 14 featured creators will face challenges designed to test "essential streamer skills" including how to motivate viewers. A panel of judges will be evaluating their performance, but viewers can influence the elimination process. Viewers can watch, cheer, and participate in challenges as well as vote to save their favorite streamers from elimination through an interactive custom-built Extension overlay.
The 14 participants in the contest are:
"Our mission at Twitch is to enable creators to make a living doing what they love," said Marcus "djWHEAT" Graham, Director of Twitch Studios. "With Stream On our goal is to help not just these 14 streamers, but show the thousands at home how to turn their passions into a career."
Enjoyed this article? Share it!